People, Places, Stories
An EU-project full of suggestions for cultural associations...
An EU-project full of suggestions for cultural associations, municipalities and cultural heritage friends Focus on "Story-Telling" and "Place-Telling".
A well-told story captures the attention of the listeners, arouses curiosity and triggers emotions. The EU project "PPS - People, Places and Stories" wants to take advantage of this. The goal is to the use of story-telling and place-telling in the dealing with cultural heritage in Europe.
The project partners from Belgium, Germany, France, Italy, Croatia and the Netherlands have collected examples and suggestions. They have intensively dealt with the possibilities of the two techniques. On this basis, assistance was provided for the process of a new way of dealing with local cultural heritage. This is precisely the goal of the project: a new understanding of the "roles" of cultural heritage.
The following areas identified by the EU-project as central fields of action:
European identity: strengthening the sense of belonging to a common European

social and cultural space.

Social sustainability: Supporting an inclusive approach to cultural heritage,

promoting participatory processes and active citizenship.

Regional development through cultural heritage: Supporting the integration of

cultural heritage into sustainable economic processes (e.g., in tourism, events, arts

and creative sectors).

Learning: promoting personal development and learning about and/or through

(cultural) heritage.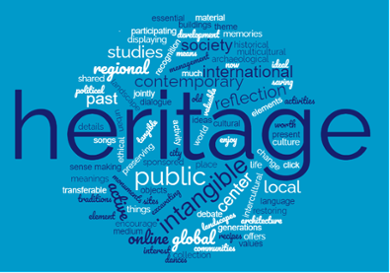 Important role for history, local history and cultural associations.
In the district of Kassel there is a large number of historical, local history and culturalassociations which should be inspired for the topic of Story/Place-Telling.All these associations focus on cultural heritage, the preservation and appreciation of whichis also a task of the following generations - the passing on of cultural heritage.Examples of the use of Story/Place Telling already exist in the county:
The Eco-Paths. These are cultural-historical, small and easily hikable paths, each with its own theme, suchas crafts, memory culture, archaeology, mining and much more. Every municipality in the district has such an Eco-path, which has been created with thesupport of local history and heritage associations.
The common European knowledge
Those who want to use the common European knowledge to discover the potential of the cultural heritage of their place can make use of the results of the PPS project.
PPS would like to develop the skills of cultural heritage professionals, local mediators, public authorities and adult educators to promote communitydevelopment through civic engagement in cultural heritage.
On the project website there is material available which will be further supplemented until the end of March.
Info on the PPS project: www.pps-eu.org
Historical, local history, and cultural associations that are interested in a workshopon the subject will receive support from the support from the district.Your contact person: Jaap van Lakerveld, PLATO@plato.leidenuniv.nl
The PPS project group at the partner meeting in Lecce, Italy (May 2022). In Lecce, the University of Salento uses historic buildings, for example the monastery. (photo: Patrizia Miggiano)
Author: Wilburg Kleff, Landkreis Kassel