Students take on the role of world leaders
An event where students came together to discuss the impact of AI on healthcare. Jurren de Groot and Yuxuan Zhu, master's students in Artificial Intelligence, took up the debate. They participated in SimuVaction, an event that brings students worldwide together in Atlanta to simulate an initiative of the G7, the Global Partnership on AI.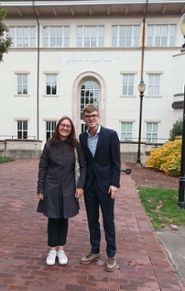 The topic of this simulation was inequalities in healthcare worldwide. The students therefore discussed social, economic and geographical factors that contribute to a lack of access to healthcare in some parts of the world. They first looked at the role of AI in healthcare. Then they came up with a plan on how AI can be used to improve problems.
'I represented Brazil and this country developed a chatbot that makes it easier for people to get help with health problems,' says Jurren. In contrast, Yuxuan looked at another step in the process: 'Representing science, I looked at how we can make sure people trust AI at all and want to use it.'
Preparation by professionals
Prior to the real simulation, there were six preparatory sessions. 'We had a group session with each stakeholder: science, business, society, international organisations and regulators. Then our team was coached by a consul general,' says Jurren.
The sessions with professionals were valuable for Yuxuan, who could not physically attend the final simulation in Atlanta. 'I attended four sessions with different stakeholders, including someone from UNESCO. This was very interesting.' In addition, the students also received negotiation exercises from various professionals.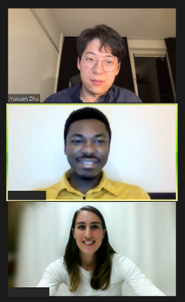 A special experience
Professionals not only attended lectures but also coached the different teams. Yuxuan: 'What really impressed me is that our science team had a coach who came from the field. He was the CEO of an American company that advocates for the reliability of AI, something I am also concerned with in my own research. We learned a lot from him and I really enjoyed this.'
In addition, both students appreciated the encounters they had during the course. 'Although I could not be there physically, I had a very good experience online. They were all nice people who treated each other respectfully,' says Yuxuan. Jurren was also impressed: 'Each student brought different insights. I would have liked more time to better understand the technical applications of AI in healthcare. Still, drafting a legal document with so many students was already a great experience.'
Inspiration for the future
'One of the most important things I learned is that for a complex problem, you need different perspectives to reach a good compromise,' says Jurren. 'It made me collaborate more with others.' Yuxuan sees opportunities to bring the ethical aspects of AI into future research, but he does not yet know exactly how: 'I am sure this experience will be useful to me in the future. I recommend every student to join if they have the chance to participate in a similar event.'
Want to know more? Check out SimuVaction's website.
SimuVaction is a conference that took place in Atlanta, USA, where 26 students from different countries came together to participate in a simulation of the GPAI: the Global Partnership of AI. The focus was on Responsible AI and the theme was Health Disparities on a Global Stage. GPAI is an initiative currently involving 29 countries worldwide.