From inquisitive exchange student to Californian dream job
As an exchange student, alumna Jessica Ma was already looking for a bridge between statistics and the real world. In Leiden, she gained the experience to follow her interests and, after a few detours, she landed her ideal job with Disney in the United States.
After her bachelor's in maths at the University of Nanjing, China, Jessica Ma had one overriding wish: 'I wanted to discover the world and was very curious about Europe: the history, the culture and the people.' When an exchange programme gave her the opportunity to do a master's in statistics in Leiden, she did not hesitate for a second.
That was over fifteen years ago, but she remembers the day she arrived here as if it were yesterday: 'Leiden is fantastic! I came from a big city and landed in this small town with its beautiful architecture, canals and a lot of bicycles. Everything was new and fascinating; I couldn't wait to immerse myself in it all.'
Meaningful encouragement
Ma became a member of the Chinese student association, attended lectures and travelled in her free time in the Netherlands and Europe. When she looks back at those years, she is still very touched by the support she received here. 'I have a broad set of interests, but I was used to hearing that I had to stick to the standard curriculum. I remember in my first weeks in Leiden saying to a professor that I wanted to do more with science-based business, and she immediately encouraged me to take that as one of my subjects. It made me realise I had the freedom to express my wishes and that I could pursue my own interests.'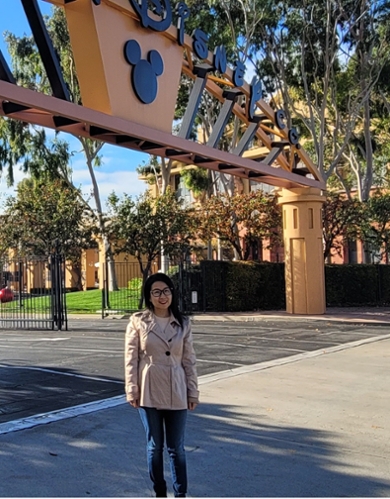 One condition of the grant that Ma had received for her master's was that once she had completed the programme she would return to China. She did go back and worked for two years in Shanghai, but had been bitten by the travel bug. 'I had never been to the US, so that was my next destination. I decided to do a second master's, this time in psychology and quantitative research methods. I was interested in brands, and specifically in the emotional bond that brands build with their public, but which is very difficult to express in figures.'
Brand experience on a global level
Ma went on to study at the University of Southern California and later obtained her PhD there. After she met her future husband, who calls Los Angeles the best place on earth, she knew she had found her new home. 'It is an ideal place for my field of expertise; this is where all the major brands have their head offices. And what brand is better at brand experience and creating an emotional bond than Disney?'
Ma has worked for The Walt Disney Company since 2014. As Senior Manager in Brand Strategy & Analytics, she and her team are responsible for monitoring how the Disney brands are performing, and discovering new growth opportunities. 'It is a fantastic place to work, and I am involved in the most diverse issues. Recently, for example, we are partnering with the local teams in North Asia on how to grow our brands further in that market.' And, on top of that, the fringe benefits are also not to be sneezed at. Ma has an access pass, for example, that she can use to take guests to the Disney parks. 'It's a good way to stay popular with my friends,' she jokes.
Leiden souvenir
She lives now in sunny Los Angeles, but does she still think about her years in Leiden? 'Definitely! I will always be grateful for the experience I had in Leiden. The attention and support from the professors and lecturers gave me the courage to be curious and keen to learn. That's something I still benefit from today.'
Text: Julie de Graaf
Photos: Jessica Ma