From acute care maze to acute care network
Acute care agencies in the Netherlands are overwhelmed and this causes major problems. Physician-researcher Naomi Minderhout therefore spent the past few years at the Health Campus in The Hague researching how acute care in the Netherlands can be improved at all levels so that it remains accessible to everyone. She defended her dissertation on Wednesday 9 November.
Together with her team at the Health Campus, Minderhout was able to make a start on a roadmap to transform the acute care maze into an acute care network. The various studies that the researchers carried out have led to the overall conclusion that making acute care in the Netherlands future-proof requires a whole-system approach: from health literacy and triage to electronic patient records and funding. 'Future-proof emergency care, needs to be more collaborative and more population-based,' says Minderhout.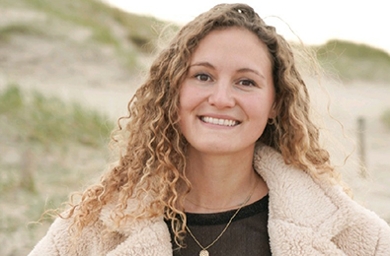 Shared dream
In one of her studies during the Covid-19 pandemic, Minderhout discovered that stakeholders from different acute care agencies actually share a common dream. But the road towards it still seems very difficult. 'In the interviews, everyone described an integrated acute care network similar to Ernst Kuipers' goal: one number, one triage and above all very much together. But nobody knows exactly how to get there,' she concludes.
During the pandemic, many barriers were identified in the organisational dimension, such as a lack of clear policies, unresolved issues leading to mistrust and misalignment of priorities between different organisations. Functional aspects such as an electronic patient record that is shared or allows for open communication and adequate funding were missing. Time and again, it emerged that all the separate organisations need to cooperate more to provide the best acute patient care.
Optimal acute care
Another factor causing acute care overload is that optimal use is often not made of the care. 'Some patients use acute care when they could easily go to their GP with their problems in the daytime.' Self-referral still regularly leads to inappropriate use of A&E. Too often, healthcare users still end up in the wrong place because of ignorance. In the past, many patients got used to the term 'first aid' and still often confuse it with A&E. According to Minderhout, to improve future acute care, it is essential that people receive the latest information through the right channels. Younger participants in the study challenged the researcher to think out-of-the-box in terms of information provision. They did not just want information via leaflets, but for example through an influencer on YouTube.
Maze solved?
'Not really, the real roadmap will have to emerge in practice if we all dare to go for it,' says Minderhout. But the maze has at least become clearer. And hopefully that is something Minderhout will continue with in the coming years. 'First, I'll finish my GP training next year and will mainly be working as a GP, but I also hope to stay involved in all developments in acute care. After defending my dissertation, I hope lots of good things will come my way.'
This research was an important building block for the creation of the Population Health Living Lab interdisciplinary research programme.