Travel log Laura Kamsma: travelling by train to the EAIE conference in Barcelona
Laura Kamsma, Head of the International Office of our Faculty kept a travel log during her visit to the EAIE conference. You can read her report here.
Monday 12/9
Off we go! We board the train departing from Rotterdam at 11 o'clock in the morning, together with seven other colleagues from SOZ, Humanities, Behavioural Sciences, and Archaeology. We are heading towards the annual conference of the European Association of International Education (EAIE). The journey goes smoothly, we transfer trains in Paris and arrive in Barcelona in the evening. On the train, I prepare myself for the conference, wave at flamingos, listen to a podcast, and chat with colleagues.
Tuesday 13/9
I spent my morning off visiting the touristic highlights of Barcelona: the Sagrada Familia and Gaudi's Casa Mila. Work, in the meantime, still needs to be done. So when I got back to my hotel, it is time for emails and online meetings. The conference is officially opened at the end of the afternoon and afterwards I have to rush to get to the Czech reception. The Czech Republic is a popular destination for FGGA students and our partner, Anglo-American University, has invited us to celebrate our successful collaboration. In the evening I meet up with other Leiden colleagues for a nice dinner.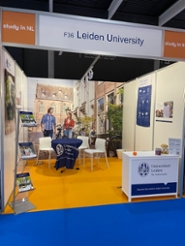 Wednesday 14/9
Today, the stands at the conference open and the 'real work' begins. Leiden University has its own stand where you can meet up with potential and existing partners and those interested can get general information about the possibilities for exchange at Leiden University. It is a convenient way to get acquainted with foreign institutions. As Head International Office, I am currently focussing more on the quality of and maintaining our current FGGA partnerships then on looking for new partners. With twelve meetings planned, I am quite busy. But it is also very nice to finally meet our partners. This is beneficial for our relationship and makes it easier to discuss ongoing issues. I meet up with our partners from, for instance, Chili, the UK, Switzerland, Czech, and the Philippines. On behalf of Public Administration, I sign an exchange contact with a partner in France. And I have an exploratory meeting with a potential partner in Italy on behalf of LUC and ISGA. In the evening, it is time for another networking event, a good time to share experiences and sample a variety of tapas.
Thursday 15/9
Today, I also have quite a few meetings planned. It is very informative to hear from partners what they are having difficulties with when it comes to internationalisation. It is also possible to attend inspiration sessions and take part in discussion groups. The hot topics for this conference are sustainability and inclusion, including sustainable travel. The Erasmus+ programme is financing a new grant to stimulate travelling by train among students. I walk past the other stands and talk to representatives from all parts of the world about exchange and the 'experience abroad' and all that entails. I also notice that there is a lot of interest from our current partners to explore collaborating in other areas, such as internships and student research projects. This closely aligns with the aim of the FGGA International Office to provide different kinds of experiences abroad to our students – a good start!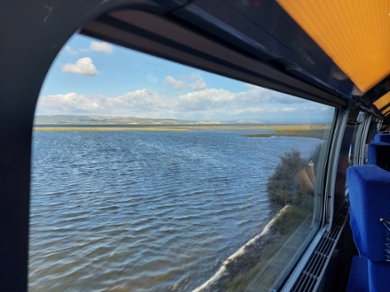 Friday 16/9
This week has flown by! Back on the train, I share experiences with a few colleagues. Everyone has been really inspired. I get going straightaway on the follow up of the meetings I have had while enjoying a view of the snow covered mountain peaks of the Pyrenees and the vast countryside. It so happens that our partner from KU Leuven is on the same train and together we transfer from Paris Gare de Lyon to Paris Gare du Nord. Only a little way to go and then it is time to say goodbye to my colleagues.
Text: Laura Kamsma