Retrospective HOPweek 2022: making new friends and form bonds with students from all over the world
On 22 August was the start of the HOPweek, the introduction week for first year students studying at Campus The Hague of Leiden University. First year students were assigned to their own group with their own mentors. During this week the students could do fun activities and workshops where they got to know the student life in The Hague, but most of all make new friends and form bonds with students from all over the world.
To discover the different aspects of The Hague, HOPweek organised different activities every day. On Monday, mentors led their students through the city centre and some mentors met at Malieveld to play games with all their students. In this way, the students made more friends in an easy and fun way and got to know the city. The following day, a tour of the campus was on the programme. And in a park, several workshops and an information market were organised. To conclude the day, all groups could sign up for a pub crawl where they could get a beer at different pubs and make friends with other students.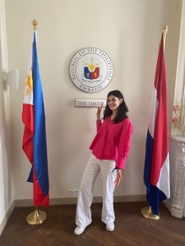 Visit an embassy, the beach and a club
Wednesday was a very special day for the students since they could visit an embassy with their group. The Philippine embassy, for example, was very welcoming to the students and answered all their questions. Moreover, when you visit an embassy, you step into another culture.
Thursday and Friday were the last two days of HOP Week, during which the students enjoyed themselves on the beach and got to know various sports associations. At the end of the week, you noticed that the students were more comfortable with each other and their mentors. To end the week well, there was a final party in Club PAARD where the students could dance and party together one last time.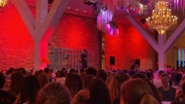 HOPweek: Fun for new students and their mentors
The aim to make it a week in which all first-year students would feel more at ease in a new city and a new environment was achieved. A freshman told one of the mentors: 'This week has brought me so much joy and I have made so many new friends and now I can't wait to start the new year.'
Finally, this week was not only fun for all the new students, but also for the mentors. They were also able to participate in various activities, meet new people and make new friends. Job van de Waeter (19), one of the mentors, experienced his first HOPweek during Covid last year and wanted to introduce the new students to The Hague without all the restrictions. 'I didn't know what to expect when I signed up as a mentor, but I haven't regretted it for a moment. I had so much fun with my group and to have the freedom to party and do things together without thinking about all the restrictions was so nice.'