Meet Gert Staal
ACPA is looking forward to work with a new member of their team: Gert Staal, Policy Officer.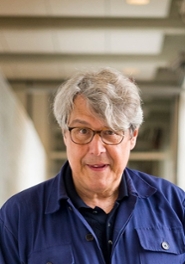 From September onwards I am working as a (part-time) policy officer at ACPA. Although new to the organisation, I am not completely new to the exciting substance of what ACPA has to offer to the academic community and to creative and performing artists from around the world. Over the past few years, I visited several public events around the research projects, and I had the good fortune to supervise designer and PhD candidate Joost Grootens, who obtained his doctoral degree in 2020. Hopefully, I can now add my bit in broadening the recognition for ACPA's pioneering role in arts and academia.
Two areas within Humanities – and more precisely the crossovers between them – have defined my professional practice. As a student, I moved back and forth between Dutch language and literature and art history. This combination allowed me to experience first-hand how language and writing connect to both research and discourse around visual arts and design. The 'immaturity' of design as a topic of academic interest presented the added temptation of a largely uncharted territory, a field that could not yet build on an established frame of reference.
My first jobs were in newspaper journalism. First as a freelance design and architecture critic for de Volkskrant, and subsequently as a staff editor at NRC Handelsblad. I have published articles and books on different design disciplines, from graphic design to jewellery, fashion and interior architecture. The link to policy developed during my years at the Netherlands Design Institute and in more recent editorial collaborations with a range of cultural and educational institutions, including Het Nieuwe Instituut, Utrecht Manifest Biennale for Social Design, the Textile Museum Tilburg, and St. Joost School of Art & Design. Currently, I am also teaching in the Information Design master department of Design Academy Eindhoven.
*photo by Boudewijn Bollmann