Archival Photo Negative Collection: A Glimpse into the Past, Holding the Mirror to the Present
This year marks the 25th anniversary of the founding of the Faculty of Archaeology which naturally leads to questions about its past. Part of the answer might be hidden in the archival photo negatives that paint a lively portrait of archaeological research taking place more than half a century ago.
Shedding light on the past of archaeology
During the last week's Lustrum Party, professor David Fontijn held an insightful lecture on the history of the Faculty of Archaeology. Although the Faculty was formally established in 1997, archaeology as a discipline has a long history at Leiden University dating a couple of hundred years back. However, there are a lot of unknowns about that period, but as Gabrijela Perhaj, former Data Steward at the Faculty of Archaeology, says, 'the archival collection of photographic negatives and data cards might shed a light on many facets of archaeological research and the accompanying educational programme.'
That is why Wouter Kool, the Faculty's Information Manager, and she have decided to continue with the project of digitisation of the photo negatives and related documents with the objective of ensuring the long-term availability of this dataset for future research. So far, more than 600 photo negatives and almost 2000 data cards have been scanned and recorded in the database. The goal is to digitise the whole collection and make it openly accessible so anyone interested would be able to investigate not only the Faculty's past but also the development of archaeological methodology on a larger scale.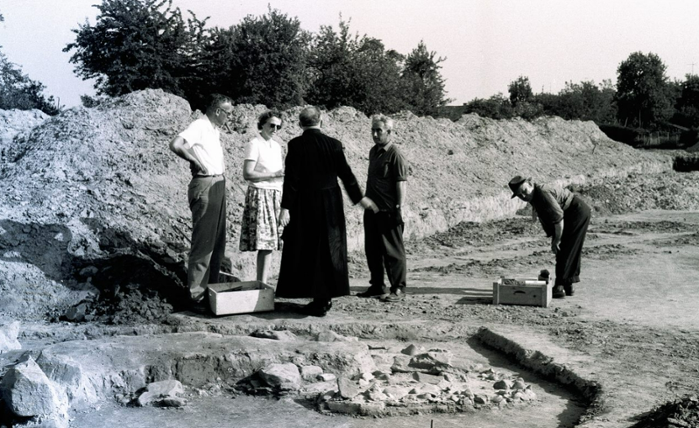 20,000 photo negatives
The collection includes more than 20,000 photo negatives documenting various artifacts and different stages of the excavation process, which is especially interesting considering the major methodological changes that have happened since. Moreover, part of the collection depicts the environment and thus enables researchers to better understand the context of the excavations as well as the increasingly significant outreach to the local community.
The focal point of the project are the interns who are doing the hard work scanning the documents, forming the procedural guidelines, and interpreting the metadata. Besides providing career-relevant and practical experience working with archaeological archival data, it also makes them more involved and aware of its importance, as this year's intern Marcel Okólski explains: 'The participation in the internship allowed me to uncover the forgotten scenes from the past archaeological projects. I hope in the next years we will be able to digitise all the photo negatives in the archive, so everyone will be able to see what the archaeological projects in the past looked like.'
Would you like to access the archive? All digitised photo negatives can be found on the shared disc: J:\Workgroups\ARCH\BEELD_SHARED\photo_negative_digitization
More information
For more information on archival data of the Faculty of Archaeology or internship opportunities in Data Management, please contact:
Data Management Student Assistant – Thomas Hijzen