Social Science Lab: think tanks that do
In June the Final Festival took place, the closing event of the 'Social Science Lab'. New participants of Honours College Science and Society presented their solution for a current social problem.
The aim of the 'Social Science Lab' is to teach honours students how to solve complex social problems in an interdisciplinary manner. To achieve this, attention was first paid to the students themselves and their role within a (research) project. During various sessions, they reflected on their personal motives, passions and qualities.
After this, the students received lectures from various experts about major social problems. In the form of small think tanks, the participants then collected information and viewpoints from academics, action groups and policy makers on a theme of their choice. On this basis, they developed an intervention plan, which stakeholders can start implementing immediately.
Longer breaks or workshops?
At the presentation event a huge variety of themes were discussed, often stemming from the personal experiences of students. For example, one of the groups argued about the high cost of public transport, while another group focused on the lack of study funding for international students.
Despite the diversity, there were also themes that lived among the participants and recurred more often. Several think tanks discussed an increase in loneliness among young and elderly people. Also a lack of healthy food appeared to be too big a problem according to many participants. Opinions on how to solve this varied, ranging from longer breaks to monthly workshops on healthy eating.
Different disciplines
For student B'Elanna van Damme (19, International Relations and Organisations), the multidisciplinarity was one of the biggest advantages of the course. 'Because many disciplines and subjects are covered, you quickly get an idea of what appeals to you and what doesn't.' The fact that the students come from different study programmes also appealed to her, because a psychologist looks at a problem in a different way than a political scientist.
B'Elanna's think tank, 'The Commission for Society Reform', came up with a suggestion to improve the university's bureaucratic system. Students with underlying complaints, such as heart problems, often have to submit a lot of paperwork in order to get a postponement of deadlines, says B'Ellana. 'This is a lot of work, because a medical certificate is difficult to obtain - especially for international students.' By involving lecturers at an earlier stage in these kinds of procedures, many steps can be skipped, the initiators believe.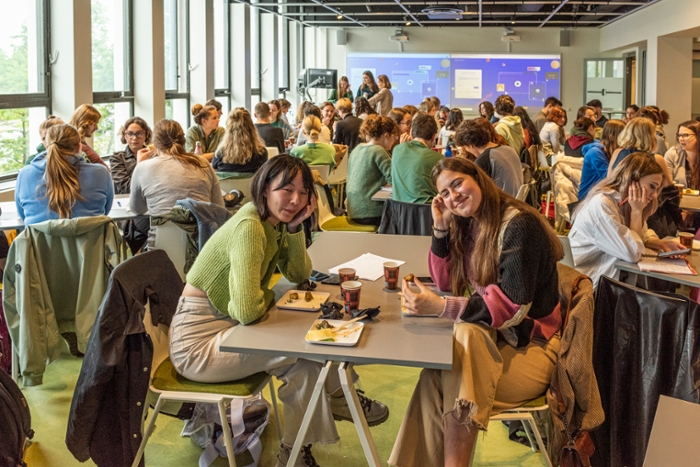 Not thinking but doing
In the end, however, the course is – in essence – not about solving a problem, but about the development that the students go through. Participants get to know themselves better and discover their qualities. Afterwards, they are encouraged to apply the knowledge they have gained during the rest of their studies. This is also important for B'Elanna: "You should not only think, but also do something with it."
Text: Robin Buijs
Photos: Buro JP
About this honours track
The 'Social Science Lab' is part of the Honours College Science and Society, organised by the Faculty of Social Sciences. This track focuses on three themes:
Sustainability & Health
Adults and Children in a Polarising World
Human Aspects of Digitalisation and Robotisation
After the broad introduction offered by this course, students can pick a theme and shape their programme for the next two years.