How drugs work better when encapsulated in nanoparticles
Chemist Tobias Bauer discovered ways to improve drugs by encapsulating them. Packages with iron nanoparticles, for example, can stimulate immune cells. Bauer will receive his PhD on 9 June.
Tobias Bauer developed polymers – chains of molecules – and nanoparticles for better drug delivery. 'The idea is to make drugs more soluble and selective by encapsulating them', Bauer explains. 'The capsule should only open in the right situation, for example when the drug has reached the right location or cell type. I researched which materials you can use for such a capsule, how you can make them and also how you can test them.'
Understanding each other was essential
Bauer mainly did practical laboratory work, in close consultation with doctors, biologists and engineers. 'Understanding each other, speaking the same language, was essential. Once I knew what was needed, I could work in the lab on questions such as: how can I speed up the reaction to make a certain polymer? How can I modify the shape of the nanoparticles, how to modify their stability or scale up their synthesis?'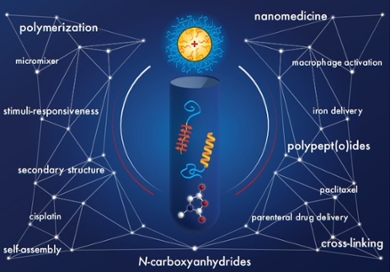 Good results with iron
Bauer achieved good results with nanoparticles containing iron. Through the controlled release of iron oxide, these particles can stimulate immune cells (macrophages). 'It was a joint project with the European Molecular Biology Laboratory (EMBL) and the University of Heidelberg. We were trying to understand the properties of these nanoparticles in order to use them in a medicine. I succeeded in making and purifying them. We have now applied for a patent application.'
From Mainz to Leiden
Bauer studied at the Johannes Gutenberg University in Mainz, Germany. There he joined the group of his supervisor Matthias Barz, who researched polymers based on amino acids. With that, our body makes an infinite number of different proteins. 'Similar to their natural analogs these polymers have many possibilities, which is very fascinating.'
When Barz left for Leiden, Bauer decided to go with him. 'I loved living in Leiden – a lovely city – and it was great getting to know new colleagues. Despite covid, I had a great start; with road cycling and bouldering I enjoyed myself. Learning Dutch was fun too. I still like to read books in Dutch.
And back in Germany
Now Bauer is back in Germany. He works as a project manager for polymer development at the chemical company Evonik in Darmstadt. 'I hesitated about a career in industry or in academia. When I was hiking with friends in the Alps, I made up my mind. Although I would have liked to stay in the Netherlands, the position at Evonik was very interesting. With the knowledge I acquired about medicinal application of polymers, I can now contribute to the development of useful applications and products.'
Text: Rianne Lindhout
Image above article: Pixabay