Honours Class tackles climate change head-on
An international and interdisciplinary collaborative effort, the Honours Class 'Sustainability Beyond Frustration: Saving the Planet as an Academic Skill' aims to present students' ideas to sustainability experts that know how to bring them to fruition.
One of the lecturers is Marc Cleiren, university professor and head of the Personal Development Centre at the Faculty of Social Science. "The point is that students who are going to be taking over our society in a few years' time experience that the distance between what you think and what you do can be bridged."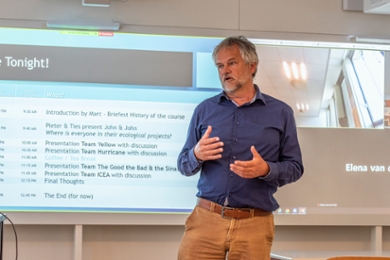 Leading scientists
The class is a collaboration between Leiden University and the Weathermakers, a Dutch company working to restore the biosphere by regenerating ecosystems and restoring water cycles in the Sinai desert and around the world. Students also speak with environmental activist and filmmaker John Liu, as well as Prof. Dr. John D. Todd, a world-renowned biologist working in the field of ecological design.
For student Irthe Schouten (23, Urban Studies), this intercommunication is one of the highlights of the course: "Talking to the experts spread across the world makes it all feel very real. Presenting our projects like this makes it feel like we're making an actual contribution, which I feel often lacks in academic education."
Tangible results
During the final meeting of the course, four interdisciplinary teams of students (with apt names such as 'The Good, the Bad and the Sinai') present their research and product ideas. The products are all aimed at improving the Weathermakers' projects in the Sinai and elsewhere.
One team hands out a pamphlet explaining how sustainability projects can traverse the different cycles of building trust with local communities. Another team presents an IKEA building plan that allows locals to build their very own domes, the structures which the Weathermakers use to make agriculture possible - even in the driest of areas.
'Each of you a weathermaker'
The common thread is this: trust and collaboration with local communities must be central to everything we do. "Everyone wants the world to be healthy and beautiful, but talking about that will only be possible when everyone's basic needs are met."
The experts are excited about the students' proposals. Project manager at the Weathermakers Pieter van Hout: "We are not just Weathermakers as a company. Each one of you is a weathermaker. And that is what the students have shown here. We have very tangible products. We have tips for where to look now."
Keep going
For Karianne Folkvord Furset (22, Philosophy), the course proved career-changing: "Seeing the actuality of how you can enact change was so personally and professionally eye-opening that I actually decided to change what I want to do for my master's degree. It was so impactful to me that I'm going to study Environmental Science."
Karianne is far from alone: when asked who would like to keep working with the Weathermakers after the course ends, a cheer goes through the room and every single student raises their hand. John Liu is a great proponent: "For all you students, you should realize that this is for your lives, not just an exercise. When this course ends, keep going. Keep thinking. You will thank yourself for it."
Text: Merijn Mulder
Photos: Buro JP