'Stolpersteine' at the University Library to commemorate Leiden war victims
Two Stolpersteine (stumbling stones) have been placed in front of the University Library in memory of the Jewish Cosman family. At the time of the Second World War, they lived in one of the houses where the library is now located.
The two Stolpersteine were placed on 25 March to commemorate war victims Arnold Cosman and his mother Rachel. Together with Arnold's father Eduard, they lived in one of the houses on the site where the UB is now located. Arnold Cosman studied at Leiden University and died at the beginning of the war. Rachel was murdered near Auschwitz in 1944. The stone for Eduard Cosman was not placed at the site of his old home, but at his hiding place in Bennekom instead.
Commemoration
Family members of Arnold and Rachel Cosman were present at the installation of the stones, as were Mayor Lenferink and representatives of the Leiden Foundation for the Commemoration of Jewish Persecution. After the stones had been laid, Rabbi Marianne van Praag from the Liberal Jewish Congregation of The Hague spoke the Kaddish, a Jewish prayer, for the Cosmans and all others who were murdered during the Shoah (Holocaust). She also stressed the importance of the Stolpersteine: 'The stones are so important because they mean we keep saying the names. And as long as the name of the deceased is spoken, they stay alive.' The commemoration ended with the family placing small stones around the Stolpersteine.
Stolpersteine
The Leiden Foundation for the Commemoration of Jewish Persecution hopes to lay Stolpersteine for all the Jewish people of Leiden who were killed in the war. A total of 200 to 250 stones will be placed a neighbourhood at a time over the next few years. Stolpersteine – literally stumbling stones – is a project that has been running since 1992. The stones are laid at the place where victims of the Nazi regime once lived. On the stone is a brass plate engraved with the person's name. There are now more than 80,000 Stolpersteine throughout Europe.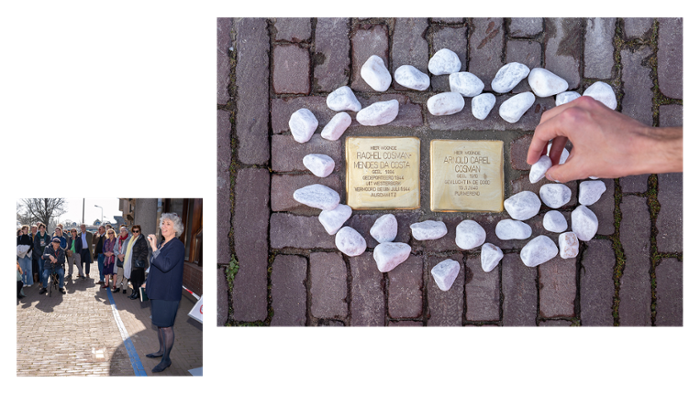 University Library staff commemorated
Over 600 employees and students from Leiden University did not survive the Second World War. Besides the new Stolpersteine, the UB also has a memorial stone for two Jewish library employees: Caroline van Loen and Elsa Oppenheim. They worked at the UB's reading room before the war but did not survive the war. A memorial stone for them was placed in the hall of the UB in 2003. Read more about Caroline van Loen and Elsa Oppenheim.
Text: Lisanne Bos
Photos: Monique Shaw