Russian cellist and ACPA researcher Maya Fridman organizes benefit concerts for Ukraine
Russian Cellist and ACPA researcher Maya Fridman is organizing many benefit events together with Russian and Ukrainian musicians to raise funds for Giro 555 for Ukraine.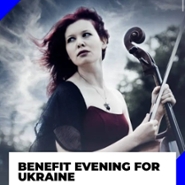 The concerts have different programmes and line-ups and have already taken place in Amare The Hague, TivoliVredenburg in Utrecht, De Doelen in Rotterdam, the Concertgebouw Amsterdam, Jazz in Wageningen and The Oosterpoort in Groningen.
In an interview with DUIC Krant she states: "When we are on stage together, with musicians from Ukraine and Russia, we are fighting for the same goal."
Fridman is not done yet and is still working on organizing more benefit concerts. Keep an eye on her Facebookpage and website for more information.
You can watch the benefit event at the Concertgebouw Amsterdam. There she, together with Ukrainian pianist Anna Fedorova and many more artists, raised €101.020.