Anna Scott named inaugural artist-in-residence at University of Surrey
Anna Scott has been named as the inaugural artist-in-residence of the Institute of Austrian and German Music Research at the University of Surrey in 2022-2023.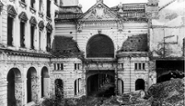 Over the course of three visits, Anna will explore links between 19th-century Austro-German music and some of Europe's darkest political chapters, bringing a performance dimension to the Institute's activities via concerts, masterclasses, lectures, and a public symposium. In addition to fostering relationships with international institutes exploring common themes, this residency will add depth and support to the research and supervision Anna carries out at ACPA.