"This China alumni network is a way to give something back to Leiden"
If you would want to set up an alumni network after you graduated in Leiden and returned to your home country, how would you go about it? Seven Leiden alumni in China did not hesitate and decided to just do it! Last year they launched the Leiden Alumni Chapter in China, an initiative which was met with great enthusiasm among fellow alumni.
"I've fallen in love with the Netherlands and Leiden," says Yuanjing Li, social media entrepreneur. It has been several years since she received her degree in Leiden, and like Yuan Yuan, Dan Xu and Jip Bouman, she has good memories of her time spent at the university. The four alumni together with three other colleagues form the organising committee of the new Leiden Alumni Chapter in China. Yuanjing Li, Dan Xu and Yuan Yuan became good friends during their years in Leiden, and kept in touch upon their return to their home country. Dan Xu, a lawyer specialising in IP law, says: "When a new colleague in my law firm turned out to be also a Leiden alumna, we decided to organise a small-scale, casual event for Leiden alumni in Shanghai, in order to get to know each other." Her employer, law firm DaWo, sponsored that first event, which was organised in June last year. About sixty people turned up at the meeting, which did not only include plenty of opportunity for sharing experiences and memories, but also featured several speakers.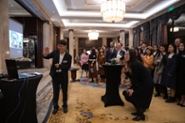 How were Leiden alumni, of which there are about 1,300 in China, informed about the event?
Dan Xu explains how a Leiden alumni group in WeChat, the Chinese messaging app, quickly expanded. "We started out with about ten people, but the group members kept introducing more and more alumni." Now the group consists of close to 300 alumni, and the organising committee expects that this number will continue to grow. After that first alumni meeting in Shanghai, there were a lot of messages in the WeChat group by alumni living and working in Beijing, who would also like to have the opportunity to take part in a similar event. This is when the organising committee decided to make use of this momentum and launch an official Leiden alumni network.
Does this mean that up to that moment there were no official Leiden alumni groups in China?
Yuan Yuan, who is director of business environment programmes at the China-British Business Council, explains that the opportunities for alumni meeting each other were limited. "The Dutch embassy at intervals organises events for all alumni of Dutch universities in China, but we felt that something more than a stand-alone event was needed." She stresses that the organising committee feels that their alumni network can distinguish itself by a unique branding and a unique content. "Because Leiden University is unique. Among others because there is a heavy focus on law, humanities and also programmes like Chinese studies. In China, Leiden University is rather low-key, it is not very well-known, in contrast to, for instance, some British universities that are doing less well in the rankings but are better in marketing themselves. Using the alumni network and the talents of members who work in PR and other sectors, we aim to build up a good branding in China for Leiden University."
How did you continue after the first ad hoc alumni event?
Jip Bouman, account manager trade and commodity finance at the Shanghai branch of Rabobank: "Late last year we organised two launching events, one in Bejing and one in Shanghai, both of which were very successful. We were lucky not having to deal with a Covid lockdown in both cities at that time, so the alumni could meet each other in person. There were several speakers, including Leiden university rector magnificus Carel Stolker, who spoke with the alumni via video call. The university offered a generous financial contribution for these events, helping us to kickstart the alumni network."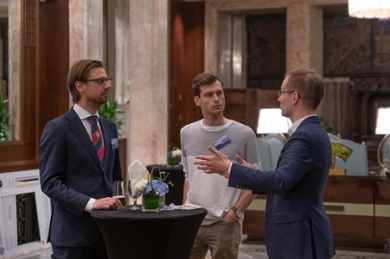 Apart from getting together and reminiscing about Leiden, what are the main advantages that this network offers to its members?
Yuanjing Li: "It certainly is not only about a group of young people getting together and having a good time. For a start, our network is open for both junior and senior alumni. We feel that both can share valuable experiences and expertise." Dan Xu stresses that the participating alumni will have the chance to leverage their professional network. And indeed, "we have seen a number of job offers in our WeChat group already. And I myself have been offered a number of interesting CVs of lawyers," she says.
But there is also the practical information that members can share with each other. Jip Bouman: "When I started my job in Shanghai, it would have made a great difference if I had known that there was a group of Leiden alumni living here whom I could approach for tips and advice." It is not surprising therefore, that the organising committee has plans to launch a platform offering advice and support for both current Chinese students in Leiden and alumni in China. Other plans include setting up a mentor network, organising local events in other regions of China as well as organising specific content-driven events. In view of these ambitions, the organising committee is actively looking for more volunteers who would like to take up some of these tasks. Yuan Yuan: "This committee is not fixed, there is room for other people. In fact, they would be more than welcome. And we are open to any good ideas for other projects that people may have."

The members of the organising committee are committed to make the alumni network a success. Jip Bouman: "As alumni, we can act as ambassadors for Leiden University." Yuan Yuan adds: "We all really value our time in Leiden, the career opportunities that the university gave us, and the brilliant people we met. The alumni network is a way to give something back to Leiden."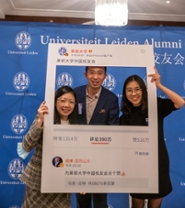 Want to know more?