Prizes for research internships in Suriname and on the Spanish Costa
They were pleased enough to receive a grant from the LUF International Study Fund (LISF). That the same research internship would also win them a prize is beyond their wildest expectations. Phebe van Langevelde and Nynke Anna van der Mark won, respectively, the Janneke Fruin-Helb grant for the best application and the LISF prize for the best report.
Phebe began her four-month internship at The Institute of Chemical Research of Catalonia in Tarragona in Spain at the end of last year. This involved conducting fundamental chemical research into catalysts to convert CO2 into fuel. And there is hope, says Phebe, who graduated on her return and has since accepted a PhD position in Leiden. 'The results are positive.' The relevance of this research to the climate problem was the reason why the jury awarded Phebe the prize of 2,250 euros.
History student Nynke Anna won her prize for her report about research into a vanished railway line in Suriname. She didn't write the report to win a prize, she says: 'I didn't even know it existed. But I like unusual stories and I like writing, so my report more or less wrote itself.' That's how the jury felt reading it, said LISF chair Rachel Schats. 'As if we were there in Suriname. You really bring the railway to life. The report was very moving.' Nynke Anna won 500 euros and now gets to present her research at the Cleveringa Meeting in Parijs in haar onderzoek presenteren.
Broaden horizons
Both prizes are intended to promote and encourage study, internships or research abroad, so that students broaden both their personal and academical horizons. That is definitely true for the six nominated students (in Dutch). They were given the opportunity to conduct unique research at renowned academic institutions, and also enjoyed the opportunity to spend time in their new international environment.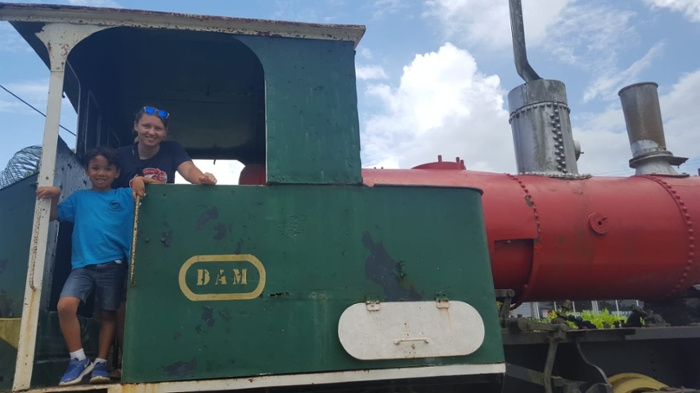 In some respects Tarragona reminded Phebe of Leiden. 'Like Leiden it's a nice compact city where you soon feel at home.' She enjoyed Spanish life, and her experience at the research institute has given her a burst of new energy. 'The research we worked on could be really significant to a more sustainable world. That's why I decided to study chemistry in the first place, to do something about the environment. If that is then rewarded with a prize, that's such positive confirmation. It feels great.'
Failed project
With Nynke Anna it was curiosity that led her to Suriname. 'The Netherlands built this railway line from Paramaribo to deep in the rainforest for gold mining. But when the gold mining proved a disappointment – and that was soon the case – the railway became a footnote in history as a failed project. I wanted to find out what remained of the railway and how the Surinamese view it.'
Many Surinamese were surprised to see a young Dutch woman being so interested in the old railway. But with the aid of the editor-in-chief of the Surinamese magazine De Parbode, who wrote a long article about her search, Nynke Anna gained many new contacts. 'I spent hours on verandas listening to stories of the railway.' These stories and archive research gave her a good idea of the significance of the railway to the Surinamese.
The prize has given her the boost she needed to finish her thesis. Not that this means she will leave the railway behind. 'No, I don't think I'm going to forget about the railway. There are so many great stories in its history. I want to do something with them. It would be a shame if all those stories were to disappear.'
Although it's not possible to go abroad at the moment, there are other ways to gain international experience, which the LUF also supports. Read all about them on the LUF website.
Text: Marijn Kramp