New professor fosters multidisciplinary approach to arthrosis
Arthrosis needs a multidisciplinary approach, says Professor Jaap Harlaar. He brings experts from different university medical centres together to unravel the secrets of this condition and thus improve its treatment. This new Medical Delta professor was appointed as Professor of Clinical Biomechanics in Leiden on 1 April 2020.
Jaap Harlaar is a professor at both Delft University of Technology and the Department of Orthopedics at Leiden University Medical Center (LUMC). Within Medical Delta, he also works at Erasmus MC. 'I see myself as a matchmaker who brings the right people together. Each institute has its own specialisms, but we can only make a difference if we work together.'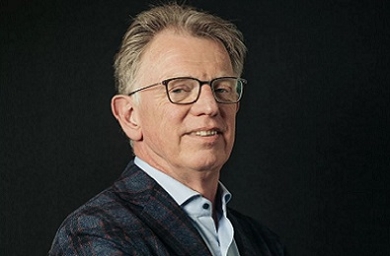 Precisely measuring cartilage degeneration
'Live long enough and you'll develop arthrosis,' says Harlaar. 'It is predicted to be the most common chronic disease in 2040, which makes it that it's a huge problem.' With arthrosis, the cartilage in joints, such as the knee, degenerates. The protective layer around the two bones that come together to form a joint deteriorates, causing the bones rub against each other.
'It's a complex condition. We know that mechanical strain contributes to cartilage degeneration, but genetic factors, age and being overweight, for instance, also play a role.' Harlaar wants to precisely map out the mechanical strain on the cartilage. 'Biomechanical models allow us to calculate the strain on the cartilage during walking and thus determine the role of the pattern of movement in the development of arthrosis.'
Precision diagnostics
'The ultimate goal is to determine this for each individual patient and to select the treatment accordingly. We also call this precision diagnostics.' During his professorship, Harlaar will look at the cause of cartilage deterioration at different levels. 'My specialism is the whole joint. Other researchers, such as Professor Ingrid Meulenbelt at the Biomedical Data Sciences Department, study how cartilage cells respond to certain strains. By combining our research we will further our understanding of cartilage degeneration.'
Collaboration between hospitals
Harlaar believes that the collaboration between the LUMC, Delft University of Technology and Erasmus MC (Medical Delta), is unique in the world because it involves joining forces to research one particular condition. 'You have to consider a complex problem such as this from not only a wide but also a deep perspective. Erasmus MC focuses more on the breadth whereas the depth, the fundamental research and establishing the cause, is being done at the LUMC.'