Alumna Matilda Siebrecht hosts Experimental Archaeology Podcast: 'We want to show the range archaeological research can take.'
Matilda Siebrecht has found the perfect combination of her interests, namely experimental archaeology, and journalism. She was asked by EXARC, a foundation that aims at connecting experimental archaeology professionals, to host a monthly podcast on this topic. 'It is called Finally Friday, airing every first Friday of the month.'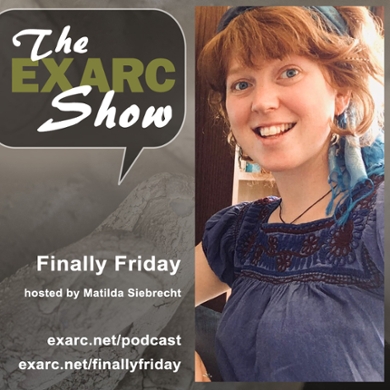 Conferences in online format
It all started when EXARC was forced to cancel experimental archaeology conferences due to the coronavirus situation. Ideas were launched to continue the conferences in an online format. Discussions and technical practicalities led to the launch of the podcast. 'They asked me whether I would be interested in hosting this series as a volunteer.' Matilda, interested in the way archaeology can be conveyed to the public, did not need to ponder the question. At the end of May 2020, the first Finally Friday podcast saw the light.
From live stream to podcast
Every podcast consists of two sections. 'In the first section I interview two experimental archaeology specialists. The second half contains a Q&A session. Since it airs in live stream format, the audience can interact with the guests.' Only later on, the interview and Q&A are bundled into a podcast to be listened to on demand.
Bread and music
The topics differ widely. 'The first podcast featured two specialists on bread in the past. The upcoming one, in contrast, will be about music and sound. We want to show the range archaeological research can take.' Making archaeological research more accessible is also important. 'We try to make the programme fun. Something new.'
Even so, it must be hard to prevent it from becoming dry. 'My role is to inject some humor into it. And the format also helps. The nice thing of having two specialists is that we usually have a lively conversation.' Matilda has a grounding role. 'If things are getting too specialised I try to steer it away.' The podcast is, in the end, meant for everyone.
Listen to upcoming and previous podcasts
Upcoming: July 3, 2020 | Exploring the world of soundscapes
Previous podcasts
Listen to the show via Spotify, Apple Podcasts, or Google Podcasts.
About EXARC
EXARC is the global network of professionals for those active in archaeological open-air museums as well as in experimental archaeology, ancient technology and interpretation. We exchange experience, tips & tricks and best practice and are working on better quality for the people involved, their (experimental) work and archaeological open-air museums in general.
See for more information, the website of EXARC.