Skandapurāṇa Volume III now available in Open Access
Skandapurāṇa III presents a critical edition of the Vindhyavāsinī Cycle (Adhyāyas 34.1-61, 53-69) from the Skandapurāṇa , with an introduction and annotated English synopsis.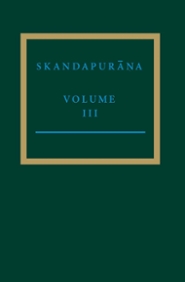 The text edited in this volume provides the oldest full account of the myth of the goddess of the Vindhya mountains; it is one of the main sources of the Devīmāhātmya, the most famous scripture of the goddess worship in India, and as such indispensable for the study of the history of goddess worship. The introduction contains an examination into the relationship of the manuscripts and the date of the Skandapurāṇa.
Thanks to the support of Kyoto University, the volume is available in Open Access.
Skandapurāṇa Volume III: https://brill.com/view/title/24008​​​​​​​