'I miss the smell of old paper in the vault'
Curators devote a lot of attention to their collections. How is Martijn Storms, curator of maps and atlases at Leiden University Libraries, managing to do this now he is working from home? And how is Silvia Vermetten digitising Eastern manuscripts from home?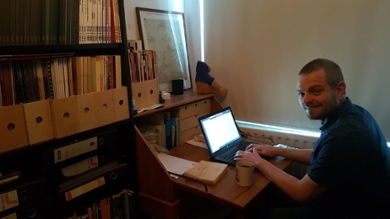 Martijn Storms is curator of maps and atlases
'There's plenty of work to do and my work mainly consists of writing: collection descriptions, articles and blogs. I'm currently writing a blog about maps charting the spread of cholera epidemics in the 19th century, for example. I want to draw some parallels with today. Luckily, I've also got a considerable library at home. I'm also working on making the material digitally accessible. It's hard not to be able to pop into the vault in Leiden to quickly check something, but you just have to make the best of it.'
The maps and atlases belonging to the Leiden University Libraries (UBL) Special Collections comprise 100,000 map sheets, 3,500 atlases and 25,000 topographical prints and drawings. An important part of this is the enormous collection that Johannes Tiberius Bodel Nijenhuis bequeathed to the library in 1872. He was a pioneer in cartographic research in the Netherlands. Around six years ago the Special Collections, and therefore the maps of KIT Royal Tropical Institute and the Royal Netherlands Institute of Southeast Asian and Caribbean Studies (KITLV), were brought under the custodianship of UBL. The KIT and KITLV collections together form the most complete Dutch colonial map collection of the Dutch East Indies, Suriname and the Netherlands Antilles.
'One project that we have started working on because we are working from home is clearing the backlog in cataloguing. It has always been a thorn in my side that because of limited capacity a large part of the Bodel Nijenhuis Collection wasn't yet available online. It is only accessible through a filing cabinet with handwritten index cards. But now our colleagues from digitisation are working from home, we can use the cards to make some progress. The description is less detailed than from the geographical maps themselves, but it's a step in the right direction.'
'Working from home is going fairly well. I've tidied up my office a bit – after the toilet it's the smallest room in our house and until now had served as a junk room –and set it up as a proper home office. Here by the window I can also look outside every now and then. The whole family is home now, as well as me that's my wife and our sons Abel (13) and Tycho (10). Our wifi network can't always cope, unfortunately. And it's difficult combining work with supervising the children. You've just got into your work when one of the kids comes in to ask a question.'
'We hold meetings in Teams, but that doesn't compare to a meeting where you're physically present. I miss the social side of the work, the formal and informal discussions with colleagues. And the smell of the old paper of the maps in the vault. But working from home definitely has its advantages. It's nice to be able to spend more time with my family. And I live in Arnhem, so I don't have to get up at the crack of dawn for the long train ride to Leiden.'
Silvia Vermetten is digitising Eastern collections.
'One of the tasks of the Special Collections Services is to make objects accessible for teaching and research, by digitising them, for instance. I'm responsible for the archives and the Eastern manuscripts and prints. Digitising the University Library material is continuing as usual in these times of corona. The tasks in the "digitisation pathway" – the process from beginning to end – are being carried out by the staff at home. I create digital records in the cataloguing system and link the scans to these. This, along with the work in the Digital Collections image database, is something you can do equally well at home. Sometimes I'd like to take a quick look at the original manuscript, but the scans usually suffice.'
'This week I'm putting Yemeni manuscripts online. With the war in Yemen there's a risk of losing a lot of cultural heritage there. That's why we started this digitisation project. The best bit of posting manuscripts online is choosing an appealing page and configuring this as the thumbnail in Digital Collections. Unfortunately, that's the one thing that is difficult to do from home. Preparatory work for digitisation projects, such as producing scan instructions, will also have to wait for the time being.'

'A large amount of my time is spent working as coordinator of the EADs (Encoded Archival Description). These are the collection guides in the catalogue. They contain all the details about an archive or collection, such as how it came about, how to access it and an inventory. I supervise the process from writing to publication, from start to end. I'm also doing that at home now.'
'I live in a big apartment with my two sons – they're young adults now. All three of us are at home, but we're doing fine. We're not getting under each other's feet. More has stopped for them than for me, so I think this period is more difficult for them. We moved fairly recently, so I had to set up my workspace sooner than anticipated last month.'
'I read somewhere that six hours of solitary work on your laptop at home is as intensive as eight hours in the office. That's how I experience it too. I miss the office banter, although we do mail, app and call each other regularly and we have an online coffee meeting every Tuesday. I'm in less contact with the curators at the moment, which is a shame. The same is true for visitors to the reading room. But I can concentrate here and work relatively uninterrupted, so I'm by no means disappointed with what I can achieve in a day.'