'Lecturers have to have time and room to experiment with new teaching methods'
Motivated, innovative lecturers are the driving force behind our teaching. Thijs Porck is a lecturer in Medieval English at the Leiden Centre for the Arts in Society. He passed the Senior Teaching Qualification at the end of last year. 'As a lecturer, it's good to keep thinking about what motivates you.'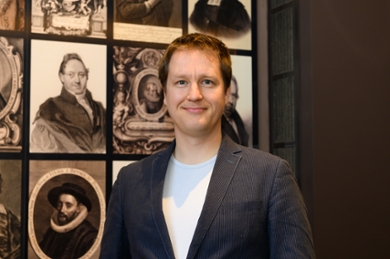 This is part two in a series of interviews with lecturers who have recently passed the Senior Teaching Qualification.
'I really enjoy teaching and thinking about teaching,' Thijs Porck begins. This interest in teaching has already proven very fruitful. He won the Humanities Teaching Prize in 2014, and was awarded the annual Leiden University Student Platform (LUS) Teaching Prize at the opening of the academic year last year. The jury praised his 'endless supply of innovative teaching ideas.'
Blended learning
Over the past five years Porck has put a lot of energy into using blended learning in his lectures. 'It's a combination of digital learning and classic teaching. You teach in a classroom, but then you use digital tools. One example is Presenter's Wall, which you can use to ask questions during lectures. The students' answers appear "live" on screen. Resources like this give me the chance to say my piece, but then with some student participation. It's how I draw them into my world and thinking.'
Room for innovation
Some of these new tools were ones that Porck himself tracked down, whereas others were offered by the Online Learning Expertise Centre at the Faculty of Humanities. 'The Expertise Centre gives you the opportunity, by providing a small grant, for instance, to try out new digital tools in your classes and to share these experiences with your colleagues.
'A caveat here is that lecturers do need the time and room to experiment with new tools. If the University finds innovation important, "teaching innovation" or "lecturer professionalisation" should be a regular part of our working hours. Lecturers have a big enough workload as it is, and all too often teaching innovation is something that happens in our free time.'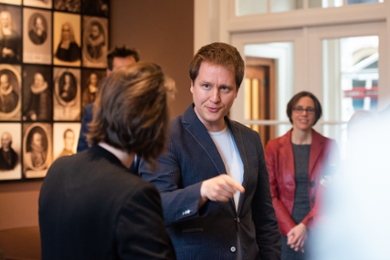 Appreciation for lectures
While working on his STQ, Porck enjoyed being able to meet colleagues who, like him, had a great appreciation for traditional teaching methods. 'Lectures, for instance, are a fantastic way to convey knowledge and teach students the skill of absorbing the subject matter in the space 45 minutes and determining what is and what isn't important. You benefit a lot from this skill later in life.'
Digi-savvy
What Porck found most valuable about the STQ programme was the reflection document that you have to write about your own teaching. 'It gives you clarity. I'm now much more aware that everything that I do is focused on getting the best out of every student. There are students who are shy or are too easily pleased or need more explanation before they understand something. I use different tools to ensure that as few students as possible fall by the wayside.
'The reflection also took me back to times when I've dropped the ball. You can't avoid the odd mishap if you want to solve things digitally – sometimes it's better to stick students together, traditionally, in a room to encourage interaction, discussion and teamwork. Another disappointment was a digital assignment that I had come up with. The instructions alone took up four pages because otherwise it would all go horribly wrong. Young people may be digi-savvy, but that doesn't automatically mean they understand how all apps work.'
Yes, he would recommend the STQ. 'As a lecturer, it's good to keep on thinking about what motivates you. And the STQ programme is also a good way to discuss teaching with your colleagues, outside your own discipline too. Obviously the STQ isn't the Holy Grail, and you don't stop developing your teaching once you've done it, but you do become more aware of your vision on teaching. And that's a real bonus.'
Senior Teaching Qualification
The STQ is a qualification for lecturers who play a leading role in the development and innovation of the teaching at the curriculum level, so beyond the limits of their own discipline. For the qualification lecturers have to make a portfolio that demonstrated that they have achieved the four learning outcomes:
Conduct within the academic teaching environment
Creating and elaborating on a teaching programme with a view to the context of a curriculum
Preparing and providing teaching
Having an impact on the teaching within one or more degree programmes that extend beyond one's own teaching programme.
In addition, the lecturer must meet the following criteria at the start of the process: be in possession of the Basic Teaching Qualification, have taught different courses and years at a university level for at least five years and to have applied a variety of teaching methods.