New Dean: 'Get students involved in developing honours education'
On 1 March 2020, Jos Schaeken will become the new Dean of the Honours Academy. He is taking over from Ton van Haaften, who is retiring after four years in the post. Here, both Deans give their views on their ambitions, continuity, and the role the students play.
Jos Schaeken (Professor of Slavic and Baltic Languages and Cultural History) is keen to get to work on offering honours education to students at the university. In addition to their regular vwo ('pre-university education'), bachelor's or master's programme, students can add an extra programme at the Honours Academy to gain more in-depth knowledge of specific subjects. 'It's important to me to open up the world of universities to as many people as possible', he says in the board room at the Old Observatory.
Ton van Haaften (Professor of Dutch Discourse Studies) has spent the past four years developing the honours programmes. As the second Dean since the Honours Academy was founded, his task was to make sure the Academy's extra programmes gained a more permanent place in the university. 'It's important to emphasise that the honours programmes are a result of the work of many different people, people from every faculty, with a lot of teachers, students and other employees. My main task, I felt, was to be their representative.'
On 4 September 2020, Van Haaften will say goodbye to Leiden University with a farewell symposium.
How do you feel when you look back on your four years as the representative of the Honours Academy?
Ton van Haaften (TvH): 'We have succeeded in making sure honours education and the organisational structure around it has a fixed role within the university. I'm glad to have been able to complete that task together with others. Some important substantive new components have also been added, such as the Pre-University College in The Hague and the Master's Honours Classes. Those elements open up honours education to a broader group; that was one of our goals when I took on the position of Dean.'
'What I want to keep working on is the diversity of the student population, in the broadest sense of the term'
Is there room for even more innovation?
Jos Schaeken (JS): 'Yes, in part, but we mustn't forget the importance of carrying out regular maintenance on the existing organisation. The Honours Academy is in a good position now, so I'm not about to make any major changes – quite the contrary – but your achievements can fade sooner than you expect.'
TvH: 'In a sense, of course the work will go on. Continuity in an organisation is very important to me, and we'll never reach a point where people will stop asking what the point of honours education is. You have to keep explaining it.'
Is anything at all going to change with the arrival of a new Dean?
JS: 'Not straight away, no. I do think it's important for us to ask ourselves what honours education should actually entail, and what the profile of an honours student should be. Is it all about getting high grades? And what do we want students to take away from the programmes? I don't have ready answers to these questions, but we still have to ask them. What I want to keep working on is the diversity of the student population, in the broadest sense of the term.'
'Four years from now students will be more involved in designing and shaping honours education'
Is that a personal motivation for you?
JS: 'You could say that, yes. I'm originally from a working-class family in Limburg that had absolutely no connection with any university. I had no idea what it meant to study at a university, so as a first-generation student I had a lot to learn. I do think, to a great extent, students need to overcome that gap themselves. It makes you stronger – it makes you who you are. That said, at times I could have done with a bit more information or support from the university. When you open up the university to young people from high schools in cities like The Hague, you're literally bringing them into a whole new world.'
What will the Honours Academy look like four years from now?
TvH: 'Four years from now students will be more involved in designing and shaping honours education. Apart from that, I'm also really enthusiastic about the idea that education can 'give something back'. As a student, you benefit from the opportunities you're offered, and that means you have a responsibility to give something back to society. I'd like to see a greater focus in education on using academic knowledge to resolve societal issues.'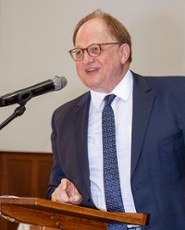 JS: 'In four years' time? That's a tricky one... One of my priorities is indeed to get students involved in developing educational programmes. That doesn't happen nearly enough at the moment. There's some scepticism about letting students decide their own educational goals, for instance, but in practice they take this very seriously and they take responsibility for achieving those standards. If you view the Honours Academy as a place for educational experimentation, I can tell you we'll be doing a lot of work in that area over the next few years.'
Finally, what will Ton van Haaften's retirement look like four years from now?
TvH: 'I may be retiring, but that doesn't mean I'm suddenly going to start doing different things. It's not as if I, for instance, have always wanted to sail around the world or get a History degree. So in that sense not a lot will change drastically. I see it more as a shift in emphasis whereby I continue with PhD supervision and my own research, but which will also give me more time for my hobbies, such as reading, travelling, and music. Those are things I've always done because I enjoy doing them, and now I'll have more time to spend on them.'
Text: IJsbrand Terpstra
Email the editors