Lively debate after panel on current events in Iran
Over 170 people took part in the panel on current events in Iran organized by LUCIS. A bustling crowd of Dutch-Iranians, students, University staff, and others came to listen to the panel of journalists and researchers in the illustrious Lorentzzaal.
The chair, Asghar Seyed-Gohrab, opened the evening by emphasizing the anguish the Iranian people experienced these past months, following the heavy crack-down on the protests and the downing of the Ukrainian flight. He introduced the panellists, who shed their light on recent events from different angles, each adding background information on the interplay of internal and external affairs.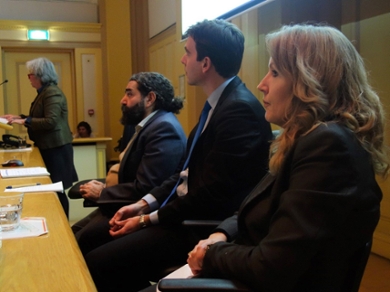 The Dutch grande dame of Middle-East journalism, Carolien Roelants, kicked off the panel with an analysis of the position of Iran within the region and the role of the United States. In an effort to correct Western prejudices and misunderstandings, publicist Shervin Nekuee expounded on the make-up of the Iranian regime as a "Republic of Rivalries". Researcher Sico van der Meer followed with an analysis of the likelihood of Iran's producing nuclear weapons – concluding with a resounding "unlikely". Lastly, journalist Carolien Omidi discussed the role of different media platforms, including the seeming indifference of Western media, the change in tone of Iranian state media, and the rising significance of social media.
The panellists' talks were followed by an engaging debate that was at times heated and emotional, reflecting the different viewpoints and factions within the ongoing discussion on Iran. Prominent audience members included His Excellency the Ambassador of Iraq, who countered some of the panel members' positions on the Iranian government. The evening showed, once more, the value of an open discussion and the need for in-depth analysis, placing current events within their historical context.