'I want to do meaningful, intellectually stimulating work'
'To be honest, I knew very little about the Netherlands when I arrived in 1998. But studying law in Leiden was a very enriching experience.' Nathalie van den Berge grew up in a number of different European countries, and now works at a UN office in Tanzania, where she lives with her Dutch husband and three sons.
Nathalie van den Berge started her law degree in Leiden in autumn 1998, and graduated in December 2003 with a specialisation in Public International and European Law. During her studies, she also spent four months on an Erasmus exchange programme in Vienna.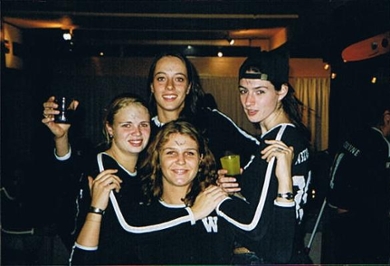 Why did you choose Leiden University, and what were your experiences of the programme, student life and the city?
'To be honest, I knew very little about the Netherlands when I arrived in 1998. I grew up in a number of different European countries and was planning to study in England. However, my parents, who were still living abroad at that point, are Dutch, and they thought it would be a good idea for me to return to my "roots". It helped that my sisters and brother had also gone to study in the Netherlands, so it was not entirely foreign to me. Of all the Dutch universities I considered, Leiden stood out, not only as a city, but also because of its strong international law curriculum – I already knew I wanted to specialise in international law.'
Very gezellig
'Living and studying in Leiden was a fantastic experience that I look back on very fondly. Cruising the narrow streets on my rusty old bike on my way to class or out at night, socialising at the student union, the many cafés and bars, the canals, the market, shopping, the very attractive barman who is now my partner... all very gezellig! I started out sharing a house with some other girls on a beautiful canal and later moved to another shared house in the town centre. I was very lucky on both occasions – my housemates were a wonderful, ambitious and open-minded bunch. We had a lot of fun together and I learned a great deal from them.'
What did you do after graduating?
'Within a month of graduating, I was off to Spain with my boyfriend – the "very attractive barman" and now my partner, Jochem Botman, who is also a Leiden University alumnus. He's written a number of historical-investigation books, the latest of which came out in December 2019, De Tarzan van Limburg.
'Jochem's friend had offered him a temporary job in Barcelona working in management at a Spanish language school, and I joined him there to learn Spanish before starting my LLM at University College London later in 2004, specialising in Criminology and Criminal Justice.'
UN International Criminal Tribunal for the former Yugoslavia
'On leaving London, Jochem and I moved back to the Netherlands, where I remember sending out more than 50 applications for internships and jobs. I started an internship with a defence team at the UN International Criminal Tribunal for the former Yugoslavia (ICTY) in The Hague in 2005, and stayed on with the defence until 2008. After that, I worked as a legal officer in ICTY Chambers on six trials and one appeal. These involved charges of genocide, crimes against humanity and war crimes against high-ranking military and political leaders during the conflict in former Yugoslavia. The work was intense, but immensely rewarding. I moved to Brussels in 2015, and spent a year working on an EU investigative task force, which was part of the investigation into alleged crimes by former members of the Kosovo Liberation Army against the Serb minority populations in Kosovo at the tail end of the Kosovo conflict in the late 1990s.'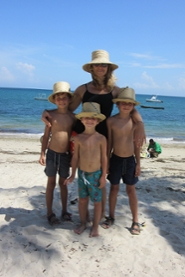 Arusha, Tanzania
'I returned briefly to the ICTY Appeals Chamber and did some consultancy work before being offered a job with the Registry of the UN International Residual Mechanism for Criminal Tribunals in Arusha, Tanzania in 2018. This "Mechanism" is a UN court that was set up to perform a number of essential functions of the International Criminal Tribunal for Rwanda once this had completed its mandate in 2015. These include tracking and prosecuting fugitives, monitoring cases referred to national jurisdictions and protecting victims and witnesses. It didn't take long to decide to move there with the family. My three sons were old enough to cope with this change, but young enough to adapt to a different environment.'
'After nearly one-and-a-half years in Tanzania, we are still enjoying every moment, and hope to stay on longer.'
Does anything that you learned at Leiden University help you in your work now?
'Studying in Leiden was enriching on a personal and academic level. The impact that student life has on you in terms of your development and sense of direction is tremendous. In addition to what I learned outside the lecture hall (which I would argue are the most important experiences!), my studies made me all the more determined to work in international law and a confident candidate when I first ventured out to find a job.'
What are your dreams?
'My dreams…? That would take pages! In terms of professional development, I tend to think in abstract goals – I want to continue doing meaningful work that is intellectually stimulating but also has an impact. I've always had a passion for international criminal law and it is my goal to remain in this field. There are endless possibilities in this line of work, so I will see where life takes me.'