From rebellious puppet show to art collection
For all the artworks that Riccardo Giacconi creates, he begins by conducting extensive research. He discovered three stories about rebellious characters that were transmitted through unofficial channels: as characters in puppet shows or in folk tales. He translated the three stories into three cycles of artworks, which form an exhibition for which he will defend his PhD on 13 November.
The first story that Giacconi researched and translated into a series of artworks is about Simone Pianetti, a character in a puppet show. Pianetti was an Italian mass murderer from the beginning of the 20th century who escaped from prison and vanished. Giacconi researched how the story of Pianetti was transmitted. 'The "documents" that transmit his story, the puppet show therefore, are very unique: they aren't official documents that have been validated by the powers that be. This is probably due to the rebellious nature of the story: by escaping and disappearing, the main character challenges the police and thus the authorities.'
This is a theme that runs through the stories that Giacconi collected. 'What I researched is whether it is possible to find or conceive of a mode of documentation that is not based on this official recognition by institutions. And can you identify this mode and translate it into works of art?' The collection that he created for his PhD is in answer to these questions. 'It comprises three cycles of artworks, three concepts, based on three such stories that are transmitted in unofficial, marginal, mysterious or latent ways.'
The second story is about Augusto Masetti (1888-1966), an Italian soldier who shot his superior and then declared that he could no longer remember having done so. 'As if he had been possessed by an entity and had acted in an ecstasy.' The sources that Giacconi used to reconstruct this story included not only anarchistic pamphlets and medical and legal notes on the case, but also the story as recounted in the oral tradition.
The third story comes once again from a puppet show. Giacconi discovered a puppet show character in Colombia called el espiritado, who was similar to Masetti from the second story. This character was also possessed. 'In my artworks, I want to recall, reawaken or reenact the stories. In the first version of my exhibition, I acted as the narrator. Now an audio tour is available.' Giacconi's works are thus ensuring that the stories are once again passed on.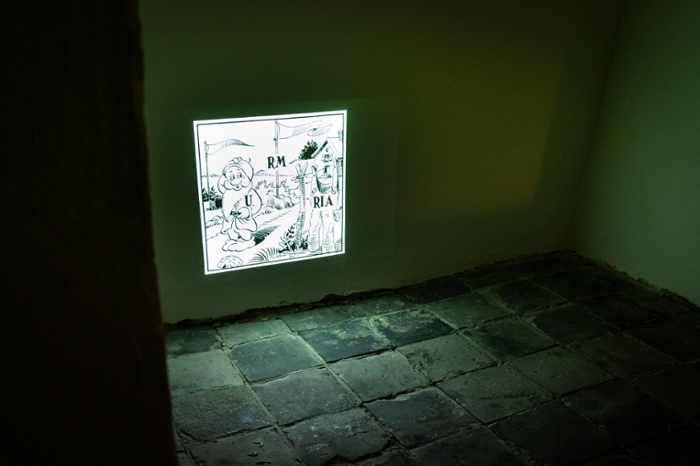 Riccardo Giacconi is a PhD candidate at the Academy of Creative and Performing Arts (ACPA), a research institute in which Leiden University works together with the University of the Arts The Hague. Giacconi's exhibition entitled 'A Variational Mode: Three Cases about Documents, Artworks and Animation' is on show at Gravensteen (Pieterskerkhof 6, Leiden) from 12 to 14 November. Open daily from 10.00 to 18.00 hours.
Giaconni will defend his dissertation twice on 13 November: once among his works in Gravensteen and once in the Senate Chamber.