'I put my name down for the Humanities Career Event to get a better idea of what I want.'
Many students find their job search really stressful – what will they end up doing after they graduate? What are their career options, their employment opportunities?
Keynote by Sofie van den Enk: 'Try to get into the habit of doing things that scare you!'
Vice-Dean Mirjam de Baar opened the Humanities Career Event to a packed Room 019 in the Lipsius building. This year's keynote speaker was Sofie van den Enk, who in addition to being a writer and columnist also presents the consumer awareness TV programme 'Keuringsdienst van Waarde'. When she was at university, she chose to do American Studies.
Sofie spoke enthusiastically to the students: 'This is one big "get out of your comfort zone" festival. I try to stay in the habit of doing things that scare me, about once a day. I'd recommend it to everyone!' It's clear from her varied career that Sofie is a jack of all trades. When asked if the subjects she studied are still useful to her, she has no hesitation in replying: 'That's my toolbox. I use the skills I gained during my time at university every single day!' She summed it up in a nutshell: 'I studied a subject that doesn't prepare you for a specific career, and I've had a career for which there's no training course. So it's actually been a perfect fit.'
We asked some students at the drinks reception what they had learned during the Humanities Career Event.
Lieke (MA Journalism and New Media) and Robin (BA Japanese Studies)
Lieke: 'I'm studying Journalism and New Media and I'd like to do something with journalism and film, but that market is pretty saturated. It was a good programme; after today I have more ideas about what I could go on to do. During the workshops they talked about how important it is to approach people. That can be hard – some people are more approachable than others – but I hope I'll be able to do a bit of networking.'
Robin: 'I'm currently in my final year of my BA in Japanese Studies and I wanted to explore a few different sectors. I went to the workshops by Das Mag (a publisher) and the NOS (a Dutch public broadcaster). They were really useful, because the speakers studied Humanities subjects too and followed the same path. Now they're doing things that are very different from the subjects they studied, but their profile is a good fit. It made me think, "I can really use this." Sometimes you have to give yourself a kick up the backside and just go for it.'
Dirk (BA Middle Eastern Studies) and Roy (MA Middle Eastern Studies)
Dirk: 'The workshops were mostly about what to expect in the field and the requirements you have to satisfy to get into the sector. The information was good, but I don't know if this is for me. At least now I know what I don't want to do.'
Roy: 'I went to the Ministry of Foreign Affairs workshop. The speakers talked about their experiences, which was helpful. You learn more from personal stories than from what you read on the internet.'
Nienke (MA Egyptology) and Rob (BA English Language and Culture)
Nienke: 'I've almost finished my master's degree, and soon I'll have to start looking for a job. There are so many options, and I always seem to come up with a different answer to the question "What do I want?". I put my name down for the Humanities Career Event to get a better idea of what I want. In the workshops the speakers told us what they did and how they got to where they are now. That gave me some insight.'
Rob: 'I attended the Working as a translator and Trainees in teaching workshops, but I don't think either of those directions is for me. Translating isn't really one of my interests, but it was a useful presentation.'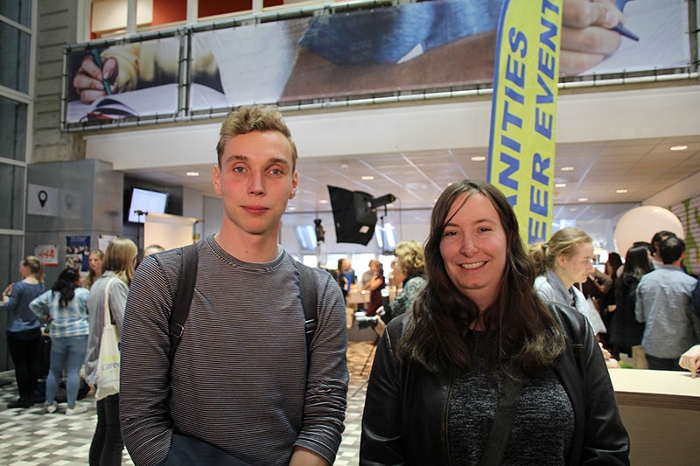 Marieke, Emma and Fréderique (BA History)
Marieke: 'I think it would be good to do a PhD later, so I went to the Working as a PhD workshop. I'd like to specialise in Dutch history, but I could also end up doing something totally different. It's not just about which programme you choose; you also have to be able to look at a subject critically and think analytically, and that's something you learn from studying History.'
Emma: 'I went to two very different workshops: Shell and AIVD (the Dutch General Intelligence and Security Service]. I enjoyed both presentations, and I liked the combination of the two, because I'd like to do something related to politics and the world of business. I especially liked that the workshops let you know what skill sets you need to work in a specific industry.'
Fréderique: 'Myself, I'm more creative, but it was hard to get a good idea of what is involved in the creative sector. That's why I went to the workshops on Working in a museum and Media internships. The main message was that if you want something, you have to get out there and take steps yourself, wherever you can.'