Get to know Seif Kabil, chairman International Young Leiden Law Alumni Network
Seif Kabil is the new chairman of the International Young Leiden Law Alumni Network. Time to get to know him better.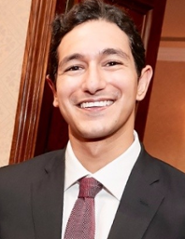 'I am from Egypt and the UK with family spread out all over, including in the Netherlands. My mother's work with the UN meant we were constantly on the move. I grew up in London, New York, Sudan, Tunisia, Norway, Albania and back to London for my undergraduate studies at King's College London. Before starting my LLM, I worked in venture capital, providing business advice, support and financing for entrepreneurs and founders of technology start-ups and scale-ups. After graduating from my LLM programme at Leiden, I decided to stay in the Netherlands. I now work in Amsterdam for a venture capital fund and consulting firm that focuses on building up Dutch scale-ups and turning them into the large companies of the future, creating more revenue, employing more people and expanding globally.'
'Besides the thrill I always get in working with entrepreneurs and seeing how venture capital can help contribute to turning ideas into reality, my current employer places a very high premium on 'triple-bottom line' companies. This means that all the ventures we support must be scalable, profitable businesses, but must also have very clear and direct societal value.'
Choosing Leiden
'I have an unusual background for an LLM graduate. I completed a BA in history at King's College London, then a post-graduate diploma in social entrepreneurship at the University of Oxford, before going on to work in the entrepreneurship space. Even so, I have always been extremely interested in studying law (the analytical mindset, the rigorous method of approaching cases, and the way politics, law and business all interact with each other. Having several Dutch relatives in The Hague (3 of whom studied law at Leiden!), I had already been to the city and knew the university's reputation. I had also always studied in a large city such as London, which is an amazing experience, but I was ready to experience a real university town.'
'When I started researching LLM programmes and came across the Advanced LLM in European and International Business Law, I was instantly attracted to the course and the modules. After I looked into the course content and the biographies of the lecturers on the course, I knew that this application would be my top choice.'
Skills obtained
'Since I am not practising law, the skills I feel I obtained are probably a bit different to what some of my peers experienced. Besides getting very deep and thorough exposure to the legal way of thinking, reasoning and writing, the course was very interdisciplinary, going into the politics of the EU (from Brexit to the eurozone crisis). The WTO law module was also made very relevant to today, whith constant discussions with and engagement on the China-US trade war, intellectual property theft and a multitude of other timely and deeply interesting topics.'
'In terms of practical skills that I use at work, the most relevant to my industry were corporate law, intellectual property law and financial law. The second a start-up becomes a scale-up and a 'real' company, issues of corporate governance arise. There are often complex and sometimes not well documented relationships with early investors and the need for the founders to formalise and professionalise the company become even more pressing.'
'The legal knowledge I obtained on the LLM has been a huge eye-opener to me and exposed gaps in the approach I had previously been taught at work from a non-law, or only purely business perspective. The role of IP law, in particular patents, is also very relevant to me. Entrepreneurship typically means innovation in products or services, so my knowledge of EU patent law (and some Dutch IP law) has also given me an edge in my day-to-day work; sometimes even bringing up legal issues the founders themselves had never considered.'
'During the competition law module, we focused heavily on competition amongst technology companies such as Google, Facebook, Amazon and Uber and the role that data plays in competition law. Besides being such a current and interesting topic, I learned a lot about how the technology giants can skew the market and lessen the opportunity for new start-ups to compete.'
'Since I work in the VC fund industry, there is an important set of financial regulations, many of which are set at the EU level, such as MiFID II and AIFMD which it is crucial to understand and how they regulate the industry I work in.'
Memorable event
'Besides the wonderful memories I have and will keep with the friends I made during the course, two things have stuck with me since graduating:
(1) The course-organised trip to Brussels and Luxembourg to visit the Commission, Parliament and the Court of Justice. The trip happened early on in the year and brought to life much of what we were studying or about to study. At the same time it was a perfect way for my whole course to get to know each other and bond in a way that could have been very different without.
(2) I remember one of our professors taking time out from one of our lectures to tell us about the Cleveringa meetings and Cleveringa himself (whom I had never heard of). She read us a few extracts from the original speech delivered at the university in 1940, and told us the story of the law school's very personal resistance to the German occupation. Besides giving me some really interesting insight into the history of the university, I also felt more connected to the university, giving my time at Leiden a real sense of occasion.'
Why a young alumni network?
'After I decided to stay in the Netherlands for a while after graduating, I got lucky in that many of my close friends also stayed and started working. We all have really fond memories of the universities but felt that we wanted some way to stay in touch with friends and former classmates that we didn't see regularly, as well as stay in touch with the Law School.'
'Many alumni remain in the Netherlands and are currently in employment within both the private sector at both local and international law firms, companies and NGO's as well as within the intergovernmental organisations based primarily in The Hague. The Law School's top-tier ranking for public international law as well as EU law, coupled with the increasingly international character of the Dutch labour market make it highly likely that more graduates will opt to remain in the Netherlands to job-hunt and build their careers.'
'My feeling is that the number of foreign graduates from the Law School has reached critical mass, and now would be the perfect time to start getting them engaged and putting Leiden Law School on the map in even more places!'
If you are interested in joining Seif in the board, please email alumni@law.leidenuniv.nl.