Science and Humanities buddies on ice
On Friday evening 14 December 2018, around forty students from the Humanities and Science faculties gathered together in the Leiden city centre to take part in a very Dutch tradition: ice skating! On the floating ice rink, Alpha, Beta, Dutch and international students came together to enjoy this typical winter activity.
Bumpy start
After a (literally) bumpy start for some, everyone enjoyed ice skating together and we even discovered some true talents! After the ice skating, the students retreated to a warm pub for some drinks and snacks. It was the perfect opportunity to get to know each other better and exchange experiences, and it led to some interesting conversations.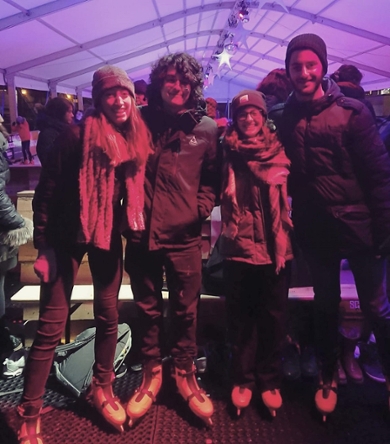 Expanding the Buddy programme
The event marked the end of the first successful semester of 2018/2019 for both Buddy programmes. During the après-ice skating drinks, students from both faculties agreed: the buddy system works. The programme helps to bring international students and Dutch students closer together and also introduces the international students to the Dutch student life. Because it's success, the programme coordinators from both faculties are currently working on expanding the Buddy programme to make it university-wide, so that students from all faculties can participate and enjoy the benefits and support of a Buddy system.
Buddy talk
During the event, we had a quick chat with some of the students to see what they think about the Buddy programme.
Margherita (Science student)
'I signed up for the Buddy Programme because I wanted to know some local students here. I was quite scared for the first day, so it was really nice to know someone in advance. I would like to become a buddy myself next year to help new international students.'
Yinzhao (Science student)
'The Buddy Programme helped me to learn a lot about Dutch culture and I made a Dutch friend (my buddy). I really enjoy my exchange student life here because of that.'

Marit (Science buddy)
'I like to see how new international students experience the Netherlands, it feels like travelling without going anywhere. It is nice to be helpful, and to meet the people you will study with.'

Emily (Humanities Buddy)
'I have been abroad myself for studies and an internship, and I wanted to continue this international environment by getting to know the Netherlands through a foreigner perspective.'

Silvia (Humanities student)
'I applied for the Buddy Programme to meet new people. I really like the programme because there are many activities that you can join where you actually do something, not only having drinks.'
Faculty of Science buddy programme
The SCIENCE Buddy Programme started in 2017 to support international students upon their arrival in Leiden and to help them with study-related questions at the Faculty of Science. Welcoming the new students before they arrive and supporting them during the first few weeks of their arrival are the most important tasks of a SCIENCE buddy.
SCIENCE buddies receive a short training before they start into the semester as a buddy. To offer personal support, most buddies are matched with only one or two international students. Over 60% of the students that sign up for the SCIENCE Buddy programme are still in touch with their buddy regularly after the first semester. Sign up through this link for the Buddy programme next year! See the student website for more information.
Faculty of Humanities buddy programme
In 2016 the Humanities Faculty has set up a Buddy Programme for Master's students to help Dutch and international students quickly integrate into the university and student life in Leiden. At the beginning of the semester, international students are paired up with a Dutch or experienced international student, who is their go-to person for questions about daily student life in Leiden.
Depending on the students' schedules, the students meet in small groups. Moreover, social and cultural activities are organized for all the buddy programme participants, such as a boat tour, museum visits, dinners and pub quizzes. Would you like to sign up for the Spring semester 2018/2019? Sign up through this link before 5 February 2019.