Herring, 3 October & Alumni worldwide
Do you remember the 3 October celebration during your study time in Leiden? And do you miss it every year, while living abroad?
Whether it's the culinary delights of hutspot (hotchpot), herring and white bread, the celebration of local identity by parades and the biggest Dutch carnival north of the Rhine, or just the opportunity of boozing at street bars deep into the night, while dancing to the tunes of local luminaries such as 'Rubber Robbie'.
One thing is certain: each year on 2 and 3 October, Leiden draws huge crowds to celebrate the relief of the city in 1574 – Leiden's Ontzet.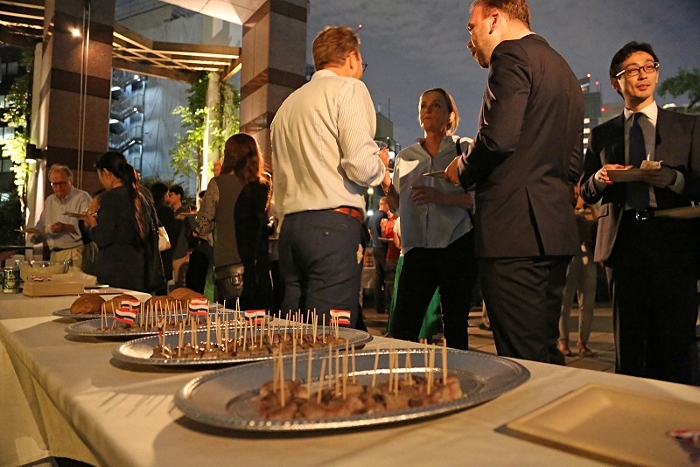 Brussels, London and Tokyo
The 3 October Vereeniging and the Alumni Office of Leiden University wanted to celebrate Leiden's Ontzet this year with Leiden alumni all over the world. And since it was difficult to get you all to Leiden on the 3rd of October, we sent the herring to our Leiden Alumni Worldwide!
Alumni in London, Brussels and Tokyo (photos) came together and celebrated the relief of Leiden with Dutch herring, thanks to the support of our alumni and the Dutch Embassies over there.
Herring in your town?
Do you live outside The Netherlands and also want to celebrate Leidens Ontzet in your country next year? Please let us know by email so we can find out if we can send herring to an alumni meeting in your area!
Weren't you invited?
Do you live in London or Tokyo and did you not receive the invitation from the Rector Magnificus prof. Carel Stolker & the Chairman 3 October Vereeniging Rik Kamps? Possibly we do not have your correct address.
Let us know where you live and we'll keep you posted on activities in your country!
Update your information here and stay connected!