From research project to market leader in cycling tours for elderly
'In Hong Kong, the elderly found our popular nature routes boring, so they now cycle our action-packed routes through New York.' What once started as an assignment for the Master Programme Media Technology, has grown into the international market leader in the field of virtual reality exercises for the elderly. With Bike Labyrinth, co-founders Ella Keijzer and Job de Reus deliver virtual cycling tours to care institutions all over the world.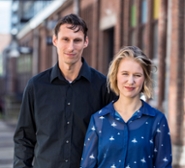 Grounds for collaboration 
BINK36, The Hague: an old, imposing building with dark bricks, in the shape of a half moon. This industrial building houses the hip office of Bike Labyrinth, including standing desks, desk bikes, and curved computer monitors. There are more than two hundred entrepreneurs in this old workshop of PTT, so not surprisingly the young company shares its hallway with, among others, a bicycle shop, a tattoo shop and a design agency. The building has been recently reimagined as an incubator for collaboration , and it works: The bicycle maker regularly fixes bicycles for Bike Labyrinth, and they work together with a game developer further down the hallway. But how did these alumni of Media Technology end up here?
With Bike Labyrinth, people can take interactive cycling tours in more than 400 different places. A screen showing the cycling routes is connected to a home trainer or exercise bike. If the user stops pedaling, the cycling route on the screen stops. This encourages users to keep moving. The lifelike images and ambient sounds provide a realistic cycling experience, bringing the outside world in. The experience gives people the feeling that they are out and adds pleasure to movement. People who cannot cycle independently outside can still discover the world in this way. Bike Labyrinth is mainly used in elderly care, disabled care, rehabilitation centres and hospitals.
Does free will exist?
Ella Keijzer explains that it all started in 2007, with the research project 'City Tour of Choices'. For this project, she set up an exhibition together with Job de Reus and another fellow student. 'By doing so, we wanted to make people think about free will,' says Keijzer. 'Visitors cycled a virtual route through Leiden, in which we made them choose between two directions.' The visitors were subconsciously guided by the programme, for example by making one option unattractive (what would you choose: a street full of flowers or a dirty alley full of waste?). Whether free will exists or not, this experiment showed that choices can be influenced.
Enthusiastic elderly
One of the visitors of the exhibition was Annette van den Boom-Melman, physical therapist at the nursing and treatment centre Topaz Overrhyn in Leiden. She was interested in the virtual bike ride for the elderly at Topaz Overrhyn. 'We then installed our setup on their home trainer,' says Keijzer. 'All residents thought it was really awesome, to rediscover the centre of Leiden in this way.' Nevertheless, the project stopped there, because the nursing home did not have the money to have a permanent set-up made. A few years later, Keijzer received a call. 'There was money available due to a donation. The nursing home organised a competition and they asked us to participate. So I called Job: "Hey Job, do you remember me?"', Keijzer laughs.
'I quit my job'
Eventually they won the competition and Bike Labyrinth was a reality. But it took a while before Bike Labyrinth became a real company. 'Job and I both had a job and we saw it as a separate project at first. But at one point we got so many requests that I said to Job: "I'm going to quit my job". Fortunately, he did the same', says Keijzer. Today they are a company with ten employees and have systems in more than ten countries.
Strength behind success
What makes Bike Labyrinth such a success? Keijzer says that their lack of expertise in healthcare was their strength. 'We weren't salesmen and didn't come from the health care sector. We had no assumptions about patients and caregivers, but listened very openly to their wishes and feedback. This has ensured that we have developed a simple, intuitive and professional product. The physical therapists and nurses from the care institutions who work with Bike Labyrinth are also enthusiastic about the product. The caregivers see that residents and patients are having fun moving again. It is also very valuable for the elderly to recognise places from the past. The combination of exercise and experience ensures that they feel better about themselves. In addition, relatively little support is needed for cycling, thereby relieving the staff.'
Action routes for elderly in Hong Kong
Bike Labyrinth now has more than 400 routes, not only in the Netherlands, but also in the United States, Hong Kong, and Indonesia. 'In Wageningen you have the nursing home Rumah Kita, especially for Indonesian elderly people', says Keijzer. 'They love the Indonesian routes.' But different target groups do bring surprises, Keijzer says. 'We also have quiet nature routes, for example of the Dutch landscape. In Hong Kong however they found these route boring, the elderly there want as much action as possible', laughs Keijzer. She then shows the route from New York on a bicycle stand in their office. When riding the bike close to a yellow taxi, it's like you're really cycling in New York. 'And that lifelike tension is what they like best in Hong Kong.'