'Empathy is one of the most important things I 've learned at LUC'
Hande Taner (on the left), graduated from Leiden University College (Liberal Arts and Sciences, World Politics) now pursuing a Master's in European Affairs at SciencesPo Paris and London School of Economics. On Monday 22 October 2018 at the OSCE/ODIHR conference on combatting discrimination, she talked about her experiences during the panel on the role of education.
Why did you choose to study at Leiden University College?
'During my last year of high school, I couldn't decide on a specific interest which made it difficult to know which a bachelor's programme to choose. However, I knew that Leiden University had many interesting programmes, and I found out that many of them were covered by Liberal Arts and Sciences. That is why I chose to study at Leiden University College (LUC) and I have never regretted my decision. I just graduated last July - cum laude!'.
What makes LUC special for you?
'LUC's intense and high academic level in teaching is what I miss so dearly at my Master's. The small-scale classes, the direct and easy access you have to your professors and the personal relationship you can build with them are things I treasure. LUC is a special place to me – it is where I have developed and changed myself, having become more independent, aware of my values, interests, and goals. Having lived with countless nationalities, with each person representing an immense life story have enriched me too. Empathy is one of the most important things I have learned. During my chairmanship of Fortuna, LUC's student association, I also had the amazing opportunity to work closely with a fully international student board.'
Were you also involved in activities outside LUC?
'Despite LUC being a special place, I was quite active outside of it. Coming from a socially engaged family, community engagement and activism run in my blood. At the beginning of my third year I was elected as the only Dutch board member of an international NGO: FEMYSO. The Forum of European Muslim Youth and Student Organisations. FEMYSO is the only youth organisation that represents European Muslim youth and students. Since 1996 it has developed into a broad network of 35 organisations across 23 European countries. Its mission is to enable European Muslim youth to achieve their potential and to contribute to the development of a diverse, cohesive and vibrant Europe. Our activities are focused around networking, campaigning, youth training courses and representation. We have developed close working relations with the European Commission and Parliament, the Council of Europe, OSCE/ODIHR, United Nations and a host of other organisations. Because of our expertise and because of my role, I was invited to speak in Rome at the OSCE/ODIHR conference.'[1]
[1] ODIHR is the Human Rights department of the OSCE.
What were the most useful skills you learned at LU?
'The skills I learned at LUC were invaluable to me in Rome. With former diplomats and academically highly successful instructors, I was able to bring both diplomatic, analytic, reasoning and public speaking skills into my speech (which you can find online on the FEMYSO website!). For instance, my speech was directly opposing the intervention of an American diplomat, an older former ambassador. Whereas his focus was on combating violent extremism in education, I emphasised the need to move away from that single-minded and dangerous approach which fosters a Big Brother environment for Muslim students. My message was that religious discrimination should not be ignored and that Islamophobia must be accepted as a separate category of racism. If a study of the Economics and Research Council in the UK shows that the majority of Muslim students at UK universities feel under suspicion and they self-censor themselves, something is fundamentally wrong.'
What are you planning for the future?
'In the future, I would love to work as a civil servant or diplomat for the Dutch government, or for the European Commission. However, knowing that not everyone accepts the religious headscarf, it will be a challenge for me. But I won't let that stop me., because I truly believe that our societies and democracy can only be preserved if everyone contributes.'
Do you have a dream?
'My ultimate dream is to have Muslim youth fully participating in the democratic process. To me, the democratic process is just a broader term for representing yourself, claiming your rights, combating discrimination, and making full use of the now shrinking space for civil society. I want Muslim youth not to feel ashamed of their religion, values and practices. I want everyone to embrace their rich identity in order to build more cohesive and vibrant societies.'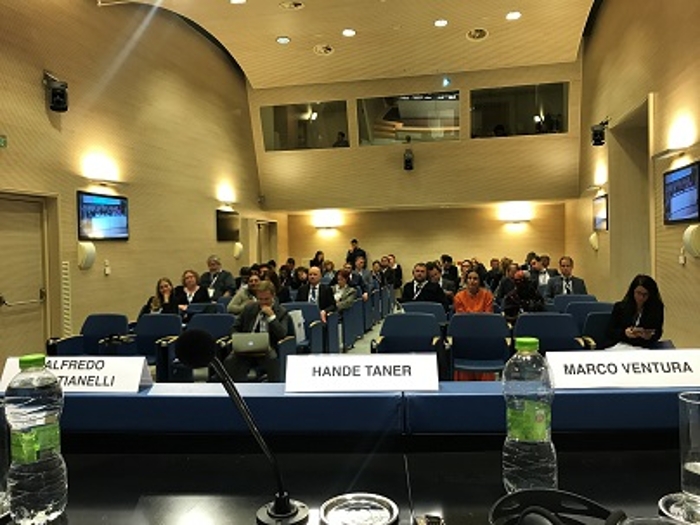 Foto at the top: Hande Taner on the left and on the right Sumaya Abdel Qader (former member of FEMYSO's board of trustees and currently Vice President of the Commission for Culture, Fashion and Design at the Municipal Council of Milan)