International Student finds human burial: "No regrets about staying in the Netherlands this summer"
During the Faculty of Archaeology's 2018 Field School excavation, in Leiden, two Early Medieval burials were encountered, as well as some house plans. One of the burials was found by Beatriz, an international student from Mexico. "When I found the pelvis bone it was clear that I had found a human skeleton."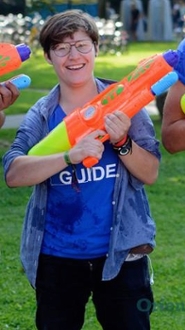 A really good decision
Beatriz was studying Physics in Paris, when she visited a friend who was studying Archaeology in Leiden. The Faculty would start with the English-language Bachelor's in Archaeology that year and Beatriz was hooked. "Just this one weekend changed my mind." She had been having second thoughts about Physics for a while, and had been playing with the idea of studying Archaeology. Her experiences in Leiden gave her the final push.
It was not something she had expected. "If they had told me years ago that I would be living in the Netherlands, I would have been like 'in the what?'." She did not want to go back to Mexico just yet, nor study Archaeology in France, where you usually start with Art History. Going for Archaeology in Leiden proved to be "a really good decision."
Supervising the Field School
Beatriz is a third-year student and was one of the supervisors of the 2018 Field School, located close to the Faculty on the fields near the Plesmanlaan. When reporting about the discovery of the burials, her seniority was a detail that the news outlets did not pick up on. "It was very funny, because in all the articles about the finding they said it was a first-year student who encountered it."
The Field School proved to be a great experience for Beatriz. She was pleasantly surprised at the number of finds made! "I have no regrets about staying in the Netherlands this summer." She excavated for three weeks at the Field School, and then worked in Vlaardingen for a week, constructing an Early Medieval house with the Experimental Archaeology team. "I was reconstructing a medieval house there, and then I found a plan of one in Leiden!"
The worst possible moment
Back at the Plesmanlaan, a burial had been found earlier, and Field School Director, Jasper de Bruin, pointed out another ground feature close to it. Beatriz was a solid choice for this task, having excavated burials before on an excavation on Cyprus. "So I was digging the section while hardly seeing the feature. Then in the end I saw a coloration at the end of the section. There I found bones. When I found the pelvis bone it was clear that it was a human skeleton."
The supervisors came over and confirmed that it was a burial. "But you will have to clean up your tools now because it's Friday afternoon, and we are finishing up for the week." It was the worst possible moment to find something like this.
A surreal feeling
After a weekend that lasted an eternity, Beatriz was back at the excavation on Monday. "They decided to lift the entire burial to study the remains more closely. It felt surreal. Really cool." The complete burial was brought to a research institute in Limburg.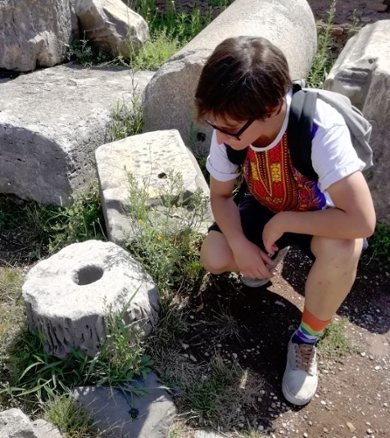 Plans for the future
In her Bachelor's Beatriz is focusing on Human Osteoarchaeology, and the Archaeology of the Near East. "Last year I worked on an excavation on Cyprus and I would like to further analyse those finds." She wants to do a Master's in Archaeology, but is not sure which specialisation to choose. "The new programme in Applied Archaeology sounds interesting. I don't want to specialise in a specific region, I want to be able to apply my skills everywhere."
And that is exactly what she did, applying her skills on Human Osteoarchaeology both in Cyprus and on the Plesmanlaan in Leiden.