Svetlana Gorshenina will be the Central Asia Visiting Scholar in February 2018
Svetlana Gorshenina, Associate Lecturer at Collège de France, Paris, will be the Central Asia Visiting Scholar from 17 February until 25 February 2018. Svetlana Gorshenina will deliver a guest lecture on Tuesday, 20 February and a masterclass on Friday, 23 February within the Central Asia Initiative at Leiden University.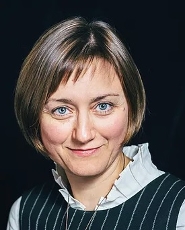 About Svetlana Gorshenina
Svetlana Gorshenina is a historian and art historian of Central Asia, working on Russian Turkestan in the 19th century. She is currently Maître de conferences associée, Chaire d'Histoire et cultures de l'Asie centrale préislamique, Collège de France, Paris. Dr. Gorshenina holds a French Habilitation à diriger des recherches en littératures et civilisations «Pour l'histoire culturelle de l'Asie centrale: 'Faiseurs de patrimoine'» (INALCO, Paris, 2016). She received her second doctoral decree (Doctorat ès Lettres) at the University of Lausanne and at Paris I-Sorbonne University in 2007 and her first PhD in 1996 at the Academy of Sciences of Uzbekistan, Tashkent. Further Dr. Gorshenina worked as a researcher in several scientific groups (CNRS-Paris, University of Lausanne, University of Manchester) and taught in the School of Advanced Studies in the Social Sciences (EHESS, Paris) and at the University of Tashkent.

Personal website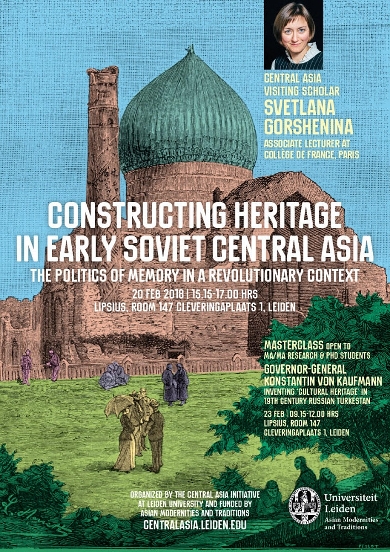 Selected publications
Books
L'invention de l'Asie centrale. Histoire du concept de la Tartarie à l'Eurasie, Genève: Droz. Collection: Rayon Histoire, n° 4, 2014, 704 p.
Asie centrale. L'invention des frontières et l'héritage russo-soviétique, Paris, cnrs-Éditions, 2012, Collection: Espaces et milieux, 384 p.
Private Collections of Russian Turkestan in the 2nd Half of the 19th and Early 20th Century, ANOR-15 (Institut für Orientalistik, Halle, Mittelasienwissenschaft Humboldt-Universität, Berlin, Université de Lausanne), Berlin: Klaus Schwarz Verlag, 2004, 205 p.
Explorateurs en Asie centrale. Voyageurs et aventuriers de Marco Polo à Ella Maillart, Genève: Olizane, 2003, 544 p.
Galina Pugachenkova: perebiraja zhizni cherepki [Galina Pougatchenkova: slices of life (biography of archaeologist, academician)], Tashkent: Press-Agency, 2000, 250 p.
Les archéologues en Asie centrale: de Kaboul à Samarcande, Paris: Découvertes Gallimard, 2001, n° 411, 160 p. (co-authored with Claude Rapin).
La Haute-Asie telle qu'ils l'ont vue. Explorateurs et scientifiques de 1820 à 1940, Genève: Olizane, 2003, 144 p. (co-authored with Aymon Baud and Philippe Forêt).
La route de Samarcande: l'Asie centrale dans l'objectif des voyageurs d'autrefois, Musée d'ethnographie de Genève, Genève: Olizane, 2000, 260 p.
Philippe Bornet, Svetlana Gorshenina, Orientalismes des marges: Éclairages à partir de l'Inde et de la Russie, Lausanne: Université de Lausanne, numéro spécial d'Études de Lettres, n° 2-3 (vol. 296), 2014, 414 p.
Michel Espagne, Svetlana Gorshenina, Frantz Grenet, Shahin Mustafayev, Claude Rapin (éd.), Asie centrale : transferts culturels le long de la Route de la soie, Paris: Vendémiaire, 2016, 731 p.
Alexandra Galitzine-Loumpet, Svetlana Gorshenina and Claude Rapin (ed.), Archéologie(s) en situation coloniale. Vol. 1: Paradigmes et situations comparées, in Nouvelles de l'archéologie, n° 126, décembre 2011, 64 p.; Vol. 2: Acteurs, institutions, devenirs, in Nouvelles de l'archéologie, n° 128, juin 2012, 64 p.
Svetlana Gorshenina and Sergej Abashin (éd.), Le Turkestan russe: une colonie comme les autres?, Paris: Complexe, Collection de l'IFÉAC - Cahiers d'Asie centrale, n° 17 / 18, 2009, 550 p.
Selected Articles
«Alexandre le Grand et les Russes: un regard sur le conquérant porté depuis l'Asie centrale», in Claudia Antonetti, Paolo Biagi (éd.), With Alexander in India and Central Asia: Moving east and back to west, Oxford : Oxbow Books, 2017, p. 152-193 [publication à comité de lecture].
"Samarkand and its cultural heritage: perceptions and persistence of the Russian colonial construction of monuments", Central Asian Survey, special issue on the Russian Conquest of Central Asia dir. by Alexander Morrison, June 2014 (33-2), p. 246-269.
"Constructing Heritage in Early Soviet Central Asia: The Politics of Memory in a Revolutionary Contex" (avec Vera Tolz), Ab-Imperio, n° 4, 2016, p. 77-115.
"Turkomstaris-Sredazkomstaris-Uzkomstaris: formirovanie institucij i etnocentricheskij razdel kul'turnogo nasledija Srednej Azii" [Turkomstaris-Sredazkomstaris-Uzkomstaris: creation of institutions and ethnocentric sharing of the cultural heritage of Central Asia], in Viktor Shnirel'man, Arkheologija i nacionalizm [Archaeology and Nationalism], Dossier in Etnograficheskoe obozrenie, 2012, n° 1, pp. 52-68.
"L'archéologie russe en Asie centrale dans une situation coloniale: quelques approches", Études pontiques. Histoire, historiographie et sites archéologiques du bassin de la mer Noire (dir. Pascal Burgunder), Lausanne: Université de Lausanne, Institut d'archéologie, Études de lettres, n° 290, 1-2, 2012, pp. 183-219.
"Le Recueil turkestanais de Mežov: l'utopie d'une somme exhaustive des connaissances sur l'Asie centrale", in Études Asiatiques / Asiatische Studien (dir. Anke von Kügelgen), 2011, LXV, n° 3, pp. 625-659.
«Krupnejshie proekty kolonial'nyx arxivov Rossii: utopichnost' total'noj Turkestaniki general-gubernatora K.P. fon Kaufmana [Projets majeurs des archives coloniales russes: l'utopie des Turkestanica exhaustifs de K.P. von Kaufmann]», Ab-Imperio, n° 3, 2007, p. 291-354.

CV in English