ILS Lunch Seminars
The monthly research lunches have become a regular point on the Law School's agenda and are steadily developing into somewhat of a tradition. We look back at two successful lunches in October and November, doing justice to the diversity in research taking place in our Faculty.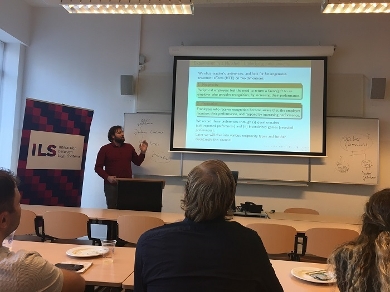 On Thursday 19 October, Prof. Egbert Koops from the Department of Legal History presented on the position of Roman women under the Augustan family laws. In his talk "Freed by Childbirth", he explained how childbirth could drastically improve the position of women in Roman society. The second speaker was Max van Lent, assistant professor in Economics, who presented the results of a field study carried out in the framework of his doctoral research on Recognition and Teacher Performance. He showed how positive feedback enhances teachers' performance.
On Thursday 16 November, a third "special issue" of the ILS lunches took place, focusing on constitutions. In the first presentation, Prof. Wim Voermans from the Department of Constitutional and Administrative Law, asked the question: "Do constitutions matter?". Using a number of graphs, his presentation underscored the belief in constitutions all over the democratic world.
PhD-candidate Emile Cammeraat from the Department of Economics followed with an insight on "The Effect of Constitutional Commitment to Social Security on Social Expenditure Schemes". His research shows that countries with a provision in their constitution on Social Security, spend a significantly larger percentage of their GDP on social security than countries who do not carry such a provision in their constitution.
The ILS Lunch Seminars allow the academic staff of our Law School to get to know each other in an informal setting and inform each other of ongoing research. The next ILS-lunch seminar will take place on Thursday 14 December from 12:00-13:00. The first confirmed speaker is Helena Uršič from EuDEco (Modelling the European Data Economy), a Coordination & Support Action (CSA) receiving funding from the European Union's Horizon 2020 programme.
Would you like to present yourself and your research in short in an informal setting? Do not hesitate to contact our ILS student assistant! There is no need to register for the lunches. Just join. Lunch is provided for.