Robbert Visser wins Political Science Master's Thesis Prize 2017
Robbert Visser has won the Political Science Master's Thesis Prize 2017. His study in the field of Political Theory is the latest milestone along Visser's (in his words) 'long road to the master's title'. The jury was impressed by his work: 'Deeply engaging, providing a critical and balanced analysis, and constituting an intelligent contribution to the debate concerning the scope of justice.'
Is justice global?
In Institutional Boundaries on the Scope of Justice: Does State Coercion Imply a Global Scope of Justice? Visser focuses on one of the essential questions of political philosophy, also raised by the American political theorist John Rawls in his influential work A Theory of Justice. According to Rawls 'Justice is the first virtue of social institutions.' Rawls argues that the concept of justice should be restricted to a society's basic state structure. This idea has initiated an intensive discussion within political theory, called the 'basic structure debate': is the scope of justice limited to the structure circumscribed by the state, or is the scope of justice global? This, for instance, is highly relevant for topics such as immigration policies and the existence of the rights of immigrants.
In his thesis Visser discusses the ideas of influential thinkers (such as Arash Abizadeh) who contend that the scope of justice is indeed global, but he also investigates arguments against the existence of a global basis structure (e.g. by Thomas Nagel and David Miller). Nicolas Vrousalis served as Visser's thesis supervisor; Marco Verschoor as second reader.
'A clear and intelligent analysis'
The jury, consisting of Arjen Boin and Marius de Geus, was delighted by the outcome: 'The understanding of the different political theories analysed in this thesis is of a very high standard. Robbert Visser has written a clear and intelligent analysis of a very complex political philosophical issue. His thesis is well structured and written in an accessible style. As a reader one is rewarded by getting many fascinating insights and new perspectives. All in all, the thesis by Visser is deeply engaging, it provides a critical and balanced analysis, and constitutes an intelligent contribution to the debate concerning the scope of justice.'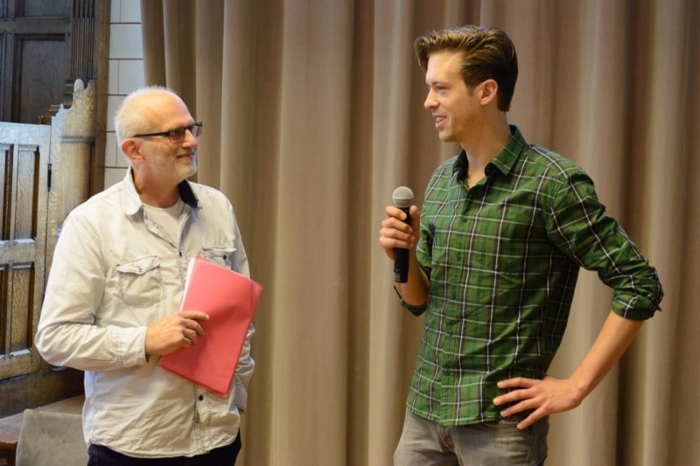 Runners-up
The other nominees for the Political Science Master's Thesis Prize 2017, and worthy of an honourable mention, were:
David Matthews (The Politics of Safeguarding Foreign Whistleblowers: Examining Ecuador's Decision to Grant Diplomatic Asylum to Julian Assange), and
Anne-Lise Olsthoorn (AZC door de Strot geduwd: Een onderzoek naar de legitimeringsstrategie van Bernheze en Geldermalsen rondom de rellen tegen een AZC).