Scaliger medal presented to LERU President Kurt Deketelaere
The first Scaliger Medal was presented on 19 September to Leuven Professor Kurt Deketelaere, President of the League of European Research Universities (LERU). He received the award in recognition of his tireless commitment to promoting European research.
Successful lobby
The Scaliger medal is awarded for exceptional contributions to upholding university values. Deketelaere has been President of the League of European Research Universities since 2009. LERU's mission is to continuously bring the importance of fundamental research to the attention of the EU. And Deketelaere is very successful in doing that, Rector Carel Stolker commented in his eulogy: 'Research is now one of the most successful of the EU's policy fields. Academics from the whole of Europe, from professors and postdocs to PhD candidates owe a huge debt of gratitude to Deketelaere.' Towards the end of the ceremony, the prize winner was heard to remark that the large sums that the EU invests in scientific research – and the sums involved are billions of euros – have the unfortunate effect of encouraging the governments of the member states to tighten the purse strings of national funding for research.
Professor of environment and energy law
As well as president of LERU, Deketelaere is also professor of environment and energy law in Leuven, and visiting professor of climate law at the University of Dundee, Scotland. He has also been visiting professor at the Universities of London, Sydney and Singapore. Deketelaere had brought his staff from LERU and from the University of Leuven with him to the ceremony in the Small Auditorium. Without them, he said, he could not have been as intensively active on two different fronts. In his speech of thanks, Deketelaere highlighted the worldwide diminishing respect for facts, particularly among politicians. 'We find ourselves in a post-truth era, where emotion holds sway. Social media is largely responsible for this. American sociologist Daniel Patrick Moynihan, who died in 2003, made the visionary comment: Everyone is entitled to their own opinions, but not to their own facts.'
Culprits
In his presentation, Deketelaere listed a number of culprits, all politicians: Trump, Putin, Erdoğan, and Orbán in Hungary. For political reasons Orbán is trying to destroy the Central European University (CEU) in his country. Erdoğan has driven hundreds of scholars out of his country's universities and has even imprisoned some of them. Deketelaere also included key figures from the Brexit-campain among the list of politicians who are more lovers of fiction than fact. 'If I were to tell the truth about the consequences of Brexit for the average Brit, there would be an immediate revolt and the exit process would be called off,' he said.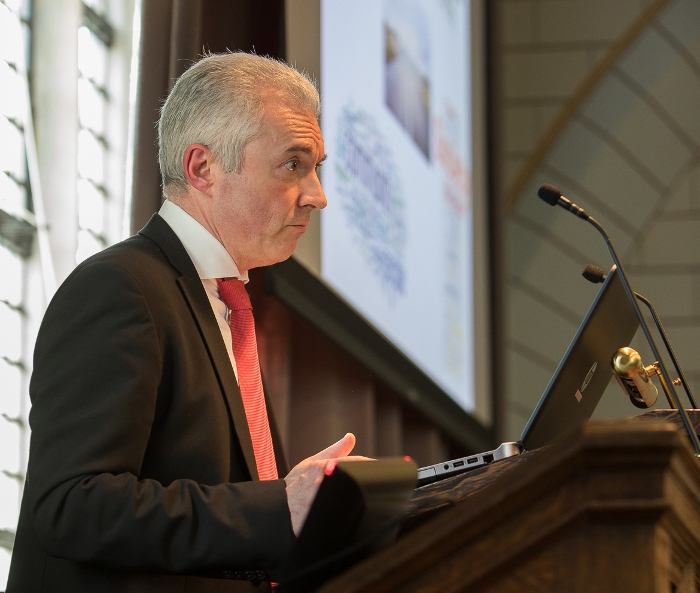 Bullshit principle
It disturbs Deketelaere that combatting untruths – and alternative facts – costs both time and energy, if it is to have any effect. Or, as Alberto Brandolini explains it in his Bullshit Asymmetry Principle: the amount of energy needed to refute bullshit is an order of magnitude bigger than to produce it. According to Deketelaere, there are three sections of society that try to adhere to real facts: judges, journalists and scientists, and these groups are constantly having to defend themselves.
Openness and transparency
Ceasing to take facts seriously is a dangerous development, said Deketelaere quoting José van Dijk and Wim van Saarloos, president and vice-president respectively of the Royal Netherlands Association of Arts and Sciences (KNAW), from an article in Dutch national newspaper NRC: if we do not distinguish fact from fiction, democracy will slide into emocracy.
What do universities defend themselves against this development? 'By speaking up and guiding developments,' was Deketelaere's advice. 'Let's go for more openness and transparency. Open data so that other scientists can repeat research, and open access so that everyone has access to scientific literature without coming up against a paywall erected by publishers. Educating and training young people to distinguish facts from fiction and stressing the importance of integrity. Nothing undermines integrity more than research findings based on fake data. We have to restore society's confidence in science.'
Almost blank pages
Scaliger professor and book historian Erik Kwakkel talked about the role of the book in the development of academic thinking. Academic thinking involves always being critical, and engaging in public debate. The first European university, Bologna, dating from 1088, took its lead from philosophers such as Aristotle. The task of academics was to defend a proposition, but then to do the same for its opposite. This led to some clamorous debates, with participants even taking supporters with them to assist them with their arguments. But the principle, to keep on asking questions and to subject your scientific work to discussion, was born. When the scientific book gained in importance, the pages contained less text, leaving as much as 70% of each page blank. And the reason for that? So that readers could write their comments.
Scaliger
The Scaliger medal and the Scaliger professor are both named after Josephus Justus Scaliger, a Protestant humanist, poet, polemicist and Bible and language scholar. He arrived in Leiden in 1593, shortly after the University was founded. Scaliger held academic values in high regard and wrote many vitriolic comments in the margins of books. The Leiden tradition can be traced back to this great scholar.
(Photo's: Monique Shaw)
Leiden University now has four honorary awards:
The William of Orange medal for an individual who has promoted the cause of freedom.
The Scaliger medal (see photograph) for an individual or organisation who has promoted worldwide the values for which the University stands. These are values of both research and teaching.
The LUS Teaching Prize for the year's best teacher.
The University medal for a person or unit at Leiden University who has provided exceptional services to the University.