The Hague set to become 'knowledge city that knows no borders'
'The Hague is rapidly developing to become a knowledge city and Leiden University is making an important contribution to this development.' These were the words with which alderman Joris Wijsmuller opened The Hague Day of Architecture on Saturday 20 May 2017. Wijnhaven was the focal point of the day.
The theme of the Day of Architecture in The Hague was 'Knowledge City without Borders', a subject that is a good match for The Hague and its commitment to the knowledge economy. Joris Wijsmuller, alderman for Urban Development, commented: 'Wijnhaven is one of the exciting projects that are part of the vibrant Central Innovation District in and around the train stations in The Hague. Other examples of projects in this area are Hollands Spoor and the adjacent former tax offices where students, education and research will be given a place.'
More higher education
'The Hague has a reputation as a city of civil servants,' Wijsmuller says. 'They're still here, but there are fewer of them today. What we're seeing is that Leiden University, universities of applied sciences and other partnerships are making use of the spaces that have been vacated, creating new places for people to come together. It doesn't matter whether it happens in a city square, a lecture room, café or workplace.'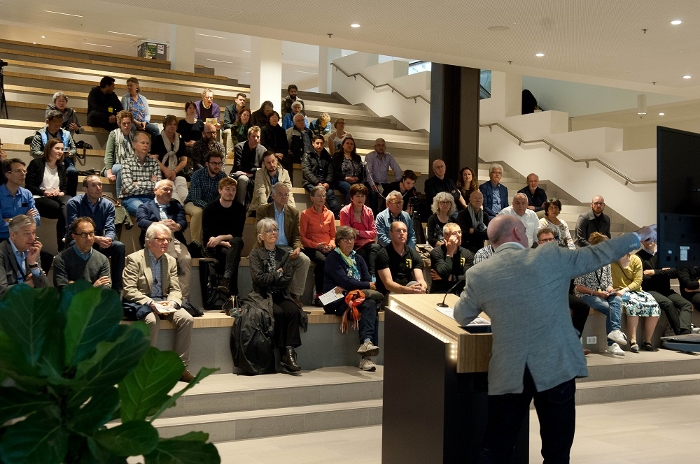 On the Spanish stairs
The alderman opened The Hague Day of Architecture with a speech on the Spanish stairs of Wijnhaven. 'What's so great about Wijnhaven is that you can get from the Turfmarkt to a debate or lecture room in no time, and that you can immediately take part. It's an open place where there's a lot going on.' This was precisely what the architects Jeroen Geurst en Leon Thier intended.' They, too, gave a talk from the Spanish stairs to start the day off.
Day for lovers of architecture
The aim of this special day was to put architecture in the spotlight. 'The municipality of The Hague fully supports this initiative,' Wijsmuller confirmed. The theme of the day is closely related to his portfolio. 'I particularly encourage this initiative because today the city is being shown in a different light, and the citizens of The Hague are involved.' It was not a day for only architects; government officers and enthusiastic citizens were also keen to know more about the architecture of the buildings and the outdoor public space. Visitors were welcome to take part in tours, exhibitions and workshops throughout the city.