Understanding yourself: worth making time for
Every year the international leadership course of the Leiden Honours Academy, the International Leiden Leadership Programme (ILLP), attracts master's students from all over the world. In June, this year's 25 students will get their certificates, but that is not the most important part, according to two of them.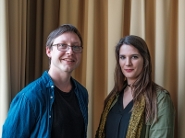 "When I left the UK a friend told me to look out for a leadership course, so I would keep an eye to the world of work", says Lewis Cooper, who studies philosophy. Keeping this advice in mind, he decided to apply for the ILLP. "I enjoyed the interview with the academic staff and knew then that I would like to go on."
For Ecem Akgün this programme was an opportunity to do something for herself, next to the courses offered by her master's in law. "It is nice that the programme makes you learn more about yourself."
Mindset
Now, nearing the end after four months, they are both very enthusiastic. Ecem: "During the training sessions we shared intimate things and people were actually listening to each other. At the end they gave you really cool feedback, about things you did not even think about yourself." In the ILLP she found students with the same mindset, with whom she started cooperating and became good friends. "I don't know if I will find this atmosphere somewhere else."
The students liked the interdisciplinary aspect of the programme as well. "We worked in a great group of people from all fields of study, whom I would not have met otherwise", Lewis says. Students are not only from different disciplines but also from different parts of the world. Consequently, students would always have different perspectives in the courses. "That was really interesting. We often came out of seminars struggling with ideas or with ourselves", remembers Lewis.
Worth making time for
"It is massively important to understand yourself", Lewis states when we talk about the value of the programme. Ecem adds: "Here all of us have ideas and dreams and want to make it happen. If you are excited, apply! You will miss so much if you do not", she would advise new master's students. And what about the time it takes? Lewis: "You will manage. If you are motivated, it is worth making time for."
IJsbrand Terpstra, student-reporter
Photography: Eric van den Bandt
International Leiden Leadership Programme
The International Leiden Leadership Programme (ILLP) is an honours programme for master's students looking for a personal challenge. Every year, 25 students from different academic and cultural backgrounds are selected for an intensive course on leadership and personal development. In a period of four months they take assessments, receive training in skills like negotiation, listening and conflict resulation and discuss leadership with experienced leaders. During this process they are guided by an experienced coach. Master's students from all Leiden University and TU Delft master's courses are welcome to apply.