LUC The Hague Congratulates Class of 2016 ½!
Last Wednesday February 1st, Leiden University College The Hague hosted the graduation ceremony of its Class of 2016 ½. 22 students received their diplomas in a festive ceremony in the auditorium of LUC The Hague. It was the first ceremony with the new dean of LUC, Prof. dr. Judi Mesman. In the inspired address at the beginning of the ceremony, she urged the audience and the graduands in particular to think about the value of their education and the responsibilities that come with it.
In often funny and sometimes emotional speeches, the academic advisors of the LUC graduates, introduced their tutees. After this, Jerzy Brinkhof (Major: World Politics), elected by his peers to be their class representative, gave a passionate speech highlighting the need to engage in debates and never fear expressing an individual argument or point of view.
At the end of the ceremony, Sophie Starrenburg (Class of 2014), welcomed the then graduates into the LUC Alumni network Evolucio. Starrenburg returned to her alma matter after having successfully completed an LLM from the University of Cambridge. Through Evolucio, the Class of 2016 ½ joins a global network of LUC graduates.
Thesis of Merit
Graduates Filippa Sofia Braarud (Major: International Justice) and Froukje Folkeringa (Major: International Justice) received a Thesis of Merit award for outstanding undergraduate research.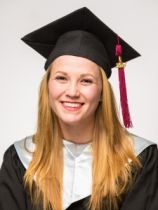 Filippa Braarud
'Common Heritage, Common Heed: Obligatio Erga Omnes And the Common Heritage of Mankind Under The Law of The Sea Convention'
Supervisor: Dr. Freya Baetens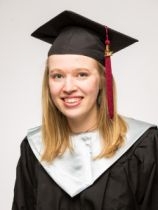 Froukje Folkeringa
'Fleeing from Untenable Environmental Conditions: Protecting Persons Displaced by the Effects of Climate Change in the International Legal System'
Supervisor: Dr. Joris Larik