My favourite spot: one for the coffee lovers
'This one is really for the coffee lovers out there, but tea drinkers and co. need not tune out because this spot has got more to offer than just coffee.' Rachel Quennell, student of International Studies in The Hague, is a mine of information for lovers of good coffee.
Rachel is a British-Australian in her final year of the BA in International Studies at Leiden University in The Hague. She set herself the mission of searching out the best place to drink coffee in The Hague.
The meanest latte!
'It feels odd for me to write about great coffee in the Netherlands as an Australian national – where you find the best flat white around – but after trying many (many) bad Dutch coffees, I have found a few great places here to get good coffee. My favourite is a place local to me in The Hague – BOON Koffiebranderij on Prinsestraat. The owners are local residents Lianne (the resident roaster) and Ad (who makes the meanest latte you've ever had).
What organic can mean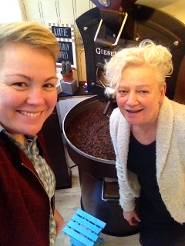 'Not only do I find coffee a great source of caffeine for those last-minute deadlines, and enjoy the taste of freshly roasted coffee, but for me it's so much more. Coffee – drinking coffee, roasting coffee, growing coffee – these all contain elements of art, culture, science, politics, so learning more about coffee has piqued my intellect and interest in these areas. For example, Lianne explained to me why some of her coffee beans aren't officially 'organic', which relates to the politics of such labels, but also to the wellbeing of bean growers. Some growers are made to grow organic beans in environments that won't sustain growth without pesticides, and can lose an entire crop if infected, and this could be a families' yearly income. Knowing these things has taught me to be a more conscious consumer and has given me the appreciation one misses when buying mass-produced products.
'Public roasting'
'As for the science, Lianne will happily walk you through her roasting process in what she calls a 'Public Roasting', where one Saturday a month she invites you to come and roast coffee beans with her! You can check out what the green beans look like, learn about the perils of a 'dark roast', and smell the unique aromas only roasting coffee brings.
Social and cultural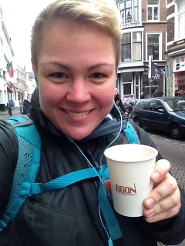 'Above all what I appreciate about coffee are the social and cultural aspects, which is why this spot in The Hague has enriched my time at Leiden University. It is one of the many lovely places in The Hague where you can enjoy a drink with a classmate, followed by a stroll around the palace gardens next door. Places like these are what we all need when reeling from exam week.
BOON stout!
'And for the beer drinkers out there, you 'll be interested to hear that BOON has been working the local brothers at the Sint Jan church on their Trappist beer – BOON stout. I for one, can't think of anything more delicious than a combination of coffee and beer!'