Tom Loonen on restoring confidence in the financial sector
"The credit crisis is over, let's strive for economic growth!" The newspaper headlines give us hope. But is this a structural recovery, or is it built on a fragile foundation?
On 26 September 2016, the Hazelhoff Centre for Financial Law welcomed Tom Loonen, Professor of 'Effectiveness of legislation for investment firms' at the Vrije Universiteit Amsterdam, for the 12th Hazelhoff Guest Lecture.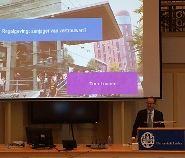 The financial and banking sector has an important function when it comes to facilitating economic recovery. What role has regulation in restoring this confidence? Does it have any effect? And what to do if regulation is not effective anymore? The Netherlands has a unique answer to this question: the bankers' oath. An important and related aspect is disciplinary law. What should we expect from disciplinary law? How does it work so far in the financial sector? In this Hazelhoff Guest Lecture, Tom Loonen discussed these questions.
Homo economicus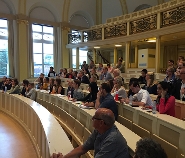 Tom Loonen explained that the general assumption that people, and therefore also investors, make rational decisions is wrong. People are driven by their emotions. However, legislation which aims to protect those investors, is based on the emotionless 'homo economicus'. The idea of this legislation is: if we provide the investors with all the relevant information, for instance by means of a prospectus, the investors will make a rational choice and will decide whether or not to buy shares in a company after having rationally judged all the information in the prospectus.
By posing several questions to the audience, Professor Loonen illustrated that we are generally not good in estimating the correct answers and risks and processing information. Investors therefore often like to take advice from an investment advisor. An investment advisor, however, cannot predict the future of the markets. What is the added value of an investment advisor? Research shows that investment advisors are less susceptible than non-professional investors to psychological biases in investment decisions.
Regulations, policies and rules
Tom Loonen then examined the national and European regulations, policies and rules in the field of investor protection that have been introduced in recent years. According to Professor Loonen the Dutch financial sector missed an opportunity by allowing the Dutch financial supervisors rather than themselves to make policies. There are now many labels and bodies that aim to improve the relationship between investors and financial firms. Moreover, investment firms must ensure inter alia that the information that is provided to clients is understandable. However, the duty of care of investment firms might also increase risk taking by investors. Research shows that consumer confidence in the banking sector is far from restored. Moreover, consumers have more trust in their own financial advisor than the bank as an institution.
This conference has been sponsored by the Leiden University Fund/Van Beuningen.