International Leiden Leadership Programme 2016 students receive Honours Certificate!
The masterstudents who participated in the International Leiden Leadership Programme (ILLP), received their honours certificate at the festive closing seminar on 11 June in the Old Observatory (Sterrewacht). Congratulations to our international students!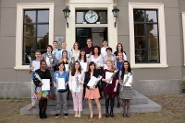 After a thought-provoking seminar by programme director Menno Mennes on how to excell, the 23 ILLP students received their certificate. After working on their leadership skills in trainings and seminars, and after completing the programme by writing a personal roadmap about the next steps in their personal leadership development, we were more than happy to award these students with their honours certificate!
The closing seminar concluded with a tour of the Observatory and celebratory drinks in the sun! The Honours Academy thanks and congratulates the ILLP students on their contribution to and completion of the International Leiden Leadership Programme.