Farhad Arbab honoured by Sharif University in Iran
Farhad Arbab, Professor of Software composition, was honoured by Sharif University of Technology in Iran as one of its 50 most outstanding alumni. The alumni were selected for both their technical achievements and service to the society.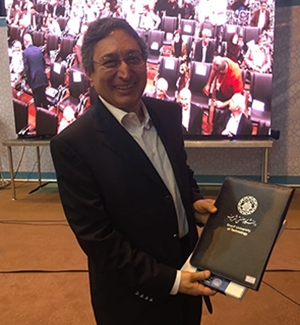 Sharif University is known for its top level students. The university celebrated its 50th anniversary in Tehran on 18 May 2016 and for that anniversary, selected its top 50 alumni.
About Farhad Arbab
Farhad Arbab studied at the Aryamehr University of Technology before he left Iran in 1977. He now holds the chair of Software Composition at the Leiden Institute of Advanced Computer Science (LIACS) and is also a researcher at CWI. He is well known for his research on concurrency, distributed and component based software and coordination languages, such as Reo.
About the Aryamehr University
The Aryamehr University was renamed Sharif University of Technology in 1980. It is now one of the largest engineering schools in the Islamic Republic of Iran. It has 300 full-time faculty members, 430 part-time faculty members and about 12,000 students.
From: cwi.nl