Upcoming exhibitions, residencies, concerts, record launches and lectures by PhDArts and docARTES researchers
Activities of Nizar Rohana, Catalina Vicens, Andrea Stultiens, Shaya Feldman, Jack Segbars, Karen Lohrmann, Patrizia Bovi, Susan Williams, Giuliano Bracci, and Eleni Kamma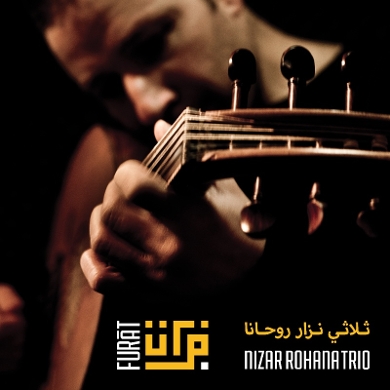 Nizar Rohana
docARTES researcher, oud player and composer Nizar Rohana announces the worldwide release of his second album Furāt (Euphrates) on Friday 15 April. The music for the album was composed by Rohana and is performed by his trio comprising himself on oud, Matyas Szandai on double bass and Wassim Halal on percussion.
Catalina Vicens
The ensemble Servir Antico, founded and led by docARTES researcher Catalina Vicens, will perform the US Première of the re-composition of Reuchlin's polyphonic cantillation (1518) at the staged reading of the play Burning Words by Peter Wortsman.
Catalina Vicens will be guest at Longy School of Music, teaching a masterclass and performing a Medieval Keyboards and Harpsichord Recital.
4 April 2016 - Masterclass, Longy School of Music, Bard College, Cambridge, MA, USA
6 April 2016 - Recital, Longy School of Music, Bard College, Cambridge, MA, USA
Andrea Stultiens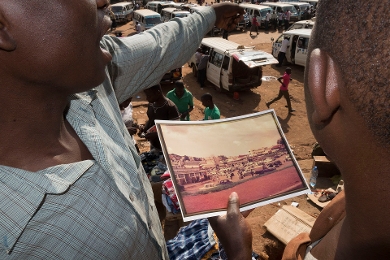 Together with PRICCAPractice, that is part of the Lectorate Image in Context at Academy Minerva, PhDArts researcher Andrea Stultiens presents the exhibition 'City Remixing'. The exhibition presents photographs made of and in Uganda's capital city Kampala through time, as seen by 5 different photographers.
8-26 April 2016; opening 7 April 2016, 17.00 hrs - Academie Minerva, Groningen, The Netherlands
Shaya Feldman
docARTES researcher Shaya Feldman will perform with his trio Zvov (Maya Felixbrodt - viola, Clara Riviére - cello, Shaya Feldman - double bass). At the Hachanut in Tel Aviv they are joined by Anat Pick (Sound poetry), while at Barbour Gallery in Jerusalem, Ayala Shamir is joining the trio on cello.
12 April 2016, 20.30 hrs - Hachanut, Tel Aviv, Israel
19 April 2016, 21.00 hrs - Barbour Gallery, Jerusalem, Israel
Shaya Feldman is also one of the contributors at this year's SAR Conference, taking place at the Royal Conservatoire & Royal Academy of Art in The Hague, in the workshop Poetics of Critical Writing, led by Julieta Aranda.
Jack Segbars
In the exhibition POLITICS OF ESTRANGEMENT - NAUGHT, PhDArts researcher Jack Segbars presents an intermediary recording of his long-term investigation into the structure of contemporary art production.
Karen Lohrmann
PhDArts researcher Karen Lohrmann presents 'Desert.0916' at the International SAR Conference 2016 with the theme Writing, organized by the Society for Artistic Research.
Patrizia Bovi
docARTES researcher Patrizia Bovi will perform in the show Venn, conceived and composed by Iris Bouche, with choreography by Sidi Larbi Cherkaoui.
Susan Williams
docARTES researcher Susan Williams, with Rachael Beesley, will coach a workshop for an 18-part ensemble consisting of trumpeters, string players and continuo group. The focus of the workshop will be exploring physical and musical gesture – motion and emotion – through the evocative music of H.I.F. Biber. The project will culminate in a concert at Nieuwe Badkapel.
Giuliano Bracci
docARTES researcher Giuliano Bracci's composition "Hortense" will be played by Ensemble Canto di Eea at Stoà Loft, Latina.
14 April 2016 - Stoà Loft, Latina, Italy
The same piece will be played in The Netherlands, by the New European Ensemble at Orgelpark, Amsterdam.
30 April 2016, 20.15 hrs - Orgelpark, Amsterdam, The Netherlands
On the same date, Ensemble Looptail will celebrate their five years of activity and release their first CD featuring work written for them by Giuliano Bracci, "Volti | Appel, Mondrian, Rembrandt".

Eleni Kamma
PhDArts researcher Eleni Kamma participates in a debate organized in the context of the seminar "Après l'école", De la nécessité de s'engager, at Creuz auditorium of La Cambre Arts Visuels, Brussels.
Eleni Kamma participates in the group exhibition Sound of Silence in the framework of the Festival van Vlaanderen Kortrijk, showing the work "It Takes Courage and Breath to Speak Up".