2010 Important gift of the Mexican Embassy
The Mexican embassy, represented by the cultural attaché, Mr. José Manuel Springer, donated to the Faculty of Archaeology a voluminous publication of detailed maps of the historical and contemporary distribution of the indigenous languages of Mexico: "Catálogo de Lenguas Indígenas Mexicanas, Cartografía contemporánea de sus asentamientos históricos", published by the Mexican Instituto Nacional de Lenguas Indígenas (INALI).
The gift was received by Prof. Dr. Willem Willems, Dean of the Faculty of Archaeology, and Prof. Dr. Maarten Jansen, professor of Archaeology and History of Mesoamerica, in the presence of Prof. Dr. Willem Adelaar, professor of Native American Languages and Cultures, and Mrs. Gabina Aurora Pérez Jiménez, teacher of the Mixtec language.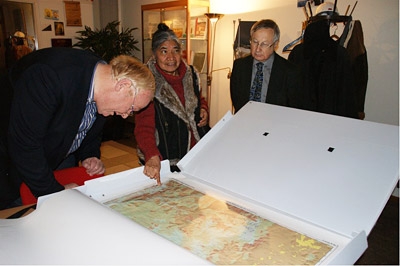 The Dean of the Faculty expressed his gratefulness for this gift, stressing the importance of these materials for Leiden students and PhD candidates in the field of the archaeology, history and languages of Mexico.