2012 field season of the Proyecto Arqueologico Centro de Nicaragua
Dusted off and fresh from the field, some insight perspectives on the 2012 field season of the Proyecto Arqueologico Centro de Nicaragua. It's safe to summarize the field campaign as having generated some insights, and possible answers, many more contacts, and the occasional frustration for added bonus!
I left for Nicaragua on May 8th, finding the majority of my field crew already awaiting me there. The program for the three-week period was probably overly ambitious and packed with numerous goals. One of these was to revisit the town of El Ayote and initiate dialogue with the municipal authorities concerning the potential of creating the archaeological park at the El Gavilan site. In all we spent three days in El Ayote and its outlying communities, surveying for archaeological sites with potential for the presence of stone sculptures, speaking with landowners and local farmers, and lastly, discussing the potential for creating an archaeological heritage management program based in El Ayote.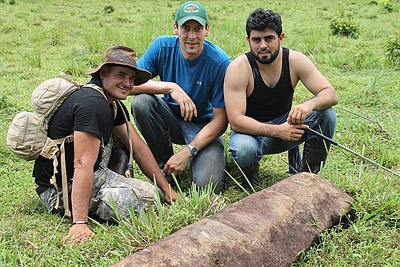 Certainly one positive development is the increasing reliability of the infrastructure in the region. Roads are in far better condition in comparison with only a few years ago. Either dirt roads have been conditioned, or are in the process of being paved with concrete bricks. A net result of this has been that travel times are cut short by half. It is now possible the reach El Ayote from Juigalpa in under two hours on comfortable road conditions.
The creation of the El Gavilan Archaeological Park has now entered Stage 1a. We have proposed the project (informally) to INC officials in Managua, receiving positive feedback. Second, we have outlined the potential of creating this park to the municipal authorities in El Ayote. There was a keen interest to push forward with this plan, also backed up with local investments by the authorities. Regarding the latter we can think of conditioning the access road to the site, organizing a manual labor force, and providing a forum in the town to organize the Working Group and create a visible presence for the project.

Read more....