Leiden Law School
Leiden Law School Hoodie
You can buy a Leiden Law School Hoodie both on location and online!
Colour and sizes
The Hoodies are available in grey / dark blue / white
Sizes are S-M-L-XL, see the table

for information about your size.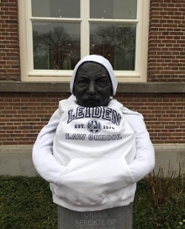 Hoodie sale on location
The sale takes place in the Global Lounge in the Legal Cafe.
Sale dates:
22 January 2019: 13.00 - 15.00
5 February 2019: 13.00 - 15.00
19 February 2019: 13.00 - 15.00
5 March 2019: 13.00 - 15.00
19 maart 2019: 13.00 - 15.00
2 April 2019: 13.00 - 15.00
You can only pay by debit card or credit card.
Hoodie sale online
Fill in the form. There is a maximum of three hoodies per form!
Next, you will receive an e-mail with the price of your order and your unique code. Make sure you mention your code in the transition!
We will send your package after receipt of payment.
You can return your order, at your own costs, within 14 days. The Hoodie has to be in perfect state in order to return it. The sale will be definite after 14 days.
In case of returns: your payment will be returned in your bank account after receipt of the hoodie.
Costs
Leiden Law School Hoodies cost €29,50 apiece, delivery charge not included.
Delivery charges vary within or outside The Netherlands:

The Netherlands: €8,99
Europe: €17
Outside Europe: €27,38
Bank details Leiden Law School
Universiteit Leiden, Rechtsgeleerdheid
o.v.v. SAP1809095333
IBAN NL97RABO0102468818
Swift RABONL2U