Lecture | LIAS Lunch Talk Series
Johan Van Manen's Tibetan and Himalayan Collection: The Challenges of Multi-media Research
Date

Wednesday 22 February 2023

Time

Series

Location

Room

1.04 (Verbarium)
Abstract
In this talk I will set out the main objectives of my ERC Starting Grant project Van Manen: Locating Literature, Lived Religion, and Lives in the Himalayas, which will commence this summer. This project will work with an important, yet mostly forgotten, collection of Himalayan texts and artifacts collected between 1920 and 1940. It will, for the first time, provide a view of the Van Manen collection through a study of its rare manuscripts, the material objects, undocumented marginal writings, and the unique Tibetan language autobiographies by ordinary Himalayan people commissioned by Van Manen.
After his death in 1943 a large part of his personal collection became housed at the university, totaling more than 1500 mostly Tibetan texts. He also collected Himalayan artifacts, now stored separately from the texts, in Museum Volkenkunde in Leiden. The texts and artifacts reflect the collector's interest in the lived religion and the lives of Himalayan people.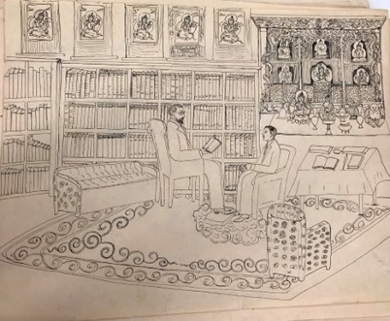 The project's goal is the examination of the van Manen Collection as a whole using historical, ethnographic and philological methods, and by employing Digital Humanities methods through which the origins of the texts and artifacts can be traced, mapped, and be made available, linking them to other editions in online databases as well as to local Tibetan archives.
In addition to introducing this project I will also discuss the many challenges that this heterogenous dataset presents us with : How do we make use of the different knowledge sets that the many relevant and diverse (sub-)fields have to offer? How can we understand this collection both as representative of Van Manen's personal interests as well as reflecting the literary, cultural, and religious landscape of the cultural contact-zone that was Greater Darjeeling area in the first half of the 20th century? And finally, a more pragmatic concern is how to display both the collection and our findings in a way that is accessible, user-friendly, and academically sound.
About the speaker
Berthe Jansen is Assistant Professor (UD) of Tibetan Studies at Leiden University. She has a PhD in Buddhist Studies from the same university. Jansen has wide academic interests but most have to do with the confluence of religion and society. Her monograph The Monastery Rules: Tibetan Monastic Organization in Pre-modern Tibet came out in 2018 with University of California Press. Jansen had a Dutch government grant (NWO) to research the relationship between Buddhism and law in pre-modern Tibet (2016-2022). She is now the PI of the ERC Starting Grant Project Locating Literature, Lived Religion, and Lives in the Himalayas: The Van Manen Collection (2023-2028). Jansen is also a translator and interpreter of (Buddhist) Tibetan.