Exhibition
Casting Call: The Αngry, The Fool, The Healer/Caretaker, The Ghost, The Innocent, The One Whose Words Penetrate Brains, The Puppeteer, The…
Date

Friday 17 February 2023 - Sunday 14 May 2023

Explanation

Fr 17.02.23 from 20:00 — 24:00 (Opening) Sa 18.02.23 from 11:00 — 18:00 Su 19.02.23 from 11:00 — 18:00 17.02 — 14.05.2023

Location

Kunsthal Gent
Lange Steenstraat 14
Ghent, Belgium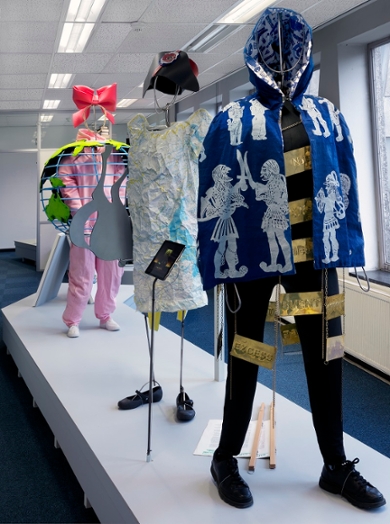 Casting Call: The Αngry, The Fool, The Healer/Caretaker, The Ghost, The Innocent, The One Whose Words Penetrate Brains, The Puppeteer, The…
Casting Call (2017-ongoing) is an investigation into the notion of parrhesia—the courage to speak one's mind — approached from a comedic and excessive perspective through a series of related attempts, events and manifestations. ACPA alumna Eleni Kamma employs performative strategies and fictional character-types rooted in popular European practices of entertainment, populist jokes and dark allegories, costumes, props, and excess to playfully ask serious questions about living well together and the role of public space and time in contemporary Europe.

From 17 February to 14 May 2023, Eleni Kamma's project Casting Call (2017-ongoing) comes to Kunsthal Gent in the form of a temporary exhibition amid the Endless Exhibition. In preparation for this, Eleni Kamma was part of Kunsthal Gent's development programme in 2022.



Openingsweekend

Fr 17.02.23 from 20:00 — 24:00 (Opening)
Sa 18.02.23 from 11:00 — 18:00
Su 19.02.23 from 11:00 — 18:00
17.02 — 14.05.2023
Kunsthal Gent
Lange Steenstraat 14, 9000 GENT
https://kunsthal.gent
https://kunsthal.gent/en/development/eleni-kamma
https://kunsthal.gent/en/events/openingsweekend-eleni-kamma-dieter-durinck
*Photography by Gert Jan van Rooij