Arts and leisure - Visual arts
Chinese calligraphy: Chinese New Year special
Make calligraphy on red paper and bring good luck to your home
Teacher

Cara Yuan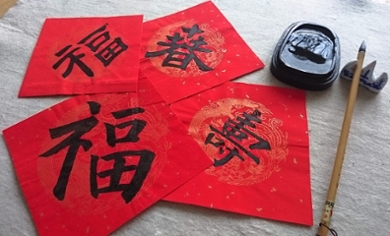 For whom
Everybody welcome

Introduction
Chinese New Year is also known as Spring Festival. The festival celebrates the beginning of a new year on the traditional Chinese lunar calendar. The next Chinese New Year is celebraed on the 22nd of January 2023.
The Chinese New Year is associated with several customs, such as having a big family dinner, lion dance and making paper-cuts. Hanging up 對聯(duilian) couplets on red paper (meaning good fortune, happiness, wealth, and longevity) is important during the celebrations of the new year. People take off last year's couplets and hang new ones around the door to welcome the new year and blessings.
What are we going to do in this workshop?
This workshop consists of two parts, under the guidance of Cara Yuan:
1.
You will be doing Chinese calligraphy on traditional red paper. Depending on your calligraphy experience, you can write individual characters such as: 福 (good fortune), 春 (spring), 壽 (longevity) or couplets with new year blessings on two long red paper strokes.
2. To give your home even more atmosphere, we will also make Chinese paper cuttings of characters and motifs with red paper.

The first part takes longer than the second part. You may also choose to participate in calligraphy or cutting.
Chinese tea and some sweets or foods which connect to the new year celebration will be served during this workshop.
All the materials are included.
Join us and lets decorate your house with your own calligraphy works and bring good luck to your home!
Teacher
Cara Yuan, an experienced and enthusiastic teacher, is an established Chinese calligrapher. Her work was already exhibited in China and Japan before she had reached the age of 20. Due to her vast experience in teaching Chinese calligraphy, Cara Yuan will create a comfortable atmosphere in which you can learn the ins and outs of this art. All participants will get personal assistance and the opportunity to fulfill their own wishes within this course.
Cara Yuan was born and raised in China. Her father is an artist, specialized in Chinese painting. Her grandfather was a Chinese calligrapher. In 1998, Cara moved to the Netherlands to study at the Amsterdam University of the Arts and become a teacher. She has been teaching Chinese calligraphy since 1999.
Isn't the registration link working? Please contact the LAK via info@lakcursussen.nl
Anyone who registers for a LAK course, thereby agrees to the LAK term and conditions.

Register on time! A workshop can only start with enough participants (this will be decided a week before the start).